Is it possible to date again after a breakup when it almost consumed your entire life? It's possible, but knows that your pace may be different from others. Let me share Daniel's story with you, a story that hopefully will motivate you to try to date again even after a hearth break and create a healthy relationship with a girl that you have been dreaming of.
Daniel, 31, works as a software developer in the Bay Area. He has never had the opportunity to learn how to date because he recently ended a long-term relationship that began in college and has him wondering where he is going.
Daniel and his friend experimented with dating apps prior to working with me, with no real plan but the best intentions. They experimented with it to get him out of his post-breakup funk. They spent a day together cobbling his dating profile, which matched him with some profiles, and because he didn't know how to carry the conversations yet, he had a lot of negative feedback cycles, and he began to feel like he was tiring of the dating apps and everything, and they ended up weary.
Read the following transcripts, which have been updated for clarity, to learn how he got to where he is now.
Talk with Daniel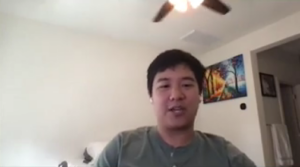 Ruby: I'm so excited for you to hear an exciting story of someone that I've worked with, and he's transformed so much over the time, and he's willing to share his experience with you, and where he is now. So, today I have Daniel. Hi, Daniel. How you doing?
Daniel: Hi. Pretty good.
Ruby: Yeah, awesome. Thank you so much for being here. So, let's just hop right in so everyone can start to get to know you. Can you first tell me a little bit about who you are, where you started, and a short summary of where you are now?
A little bit of Daniel
Daniel: My name is Daniel. I'm 31 right now, located in the Bay Area, software engineer. Prior to working with Ruby, I had just gotten out of a seven-year relationship or something like that. Before that, didn't actually do much dating. Pretty much was the first relationship out of college into a seven-year relationship. I was just like, "I don't know where we're going right now." Where I am right now? Right now, it's been six months since I met this girl, and we've been having a really good time together, and life is going pretty great.
Ruby: So, you're happily in a relationship and it was so adorable the way you told me. You sent me photos, I'm was like, "Oh, my gosh, I love this. I love seeing those updates."
What he worried about before
Ruby: Let's backtrack first a little bit and then we'll get into what you just said about getting into a relationship. What did you worry about before? What did you think made dating harder for you when you started?
Daniel: I think I just worried about everything. I feel in my previous relationship, my first relationship, I almost feel a part of that was I didn't know how to date, I didn't know what dating was. I feel a small part of that was like, "Oh, I'm in this relationship because then I don't need to figure out dating." If you're already in a relationship, you don't need to figure it out. But then that also set the stage weirdly. There's that backdrop of like, okay, if things aren't working out, you're kind of reluctant to make any changes and whatnot, because I was like, "Well, I don't want to date." Staying in an unhappy relationship or something was in the moment less scary of two evils to me.
Ruby: I see. Yeah, it makes sense.
Daniel: I just felt I didn't know what I was doing. Didn't know anything, didn't know what to wear, didn't know what apps to use, pretty much everything.
Prior to working with me
Ruby: Right. Remind me, before you started working with me, did you try all the apps before and dabbled in it, but you were kind of confused about how well it worked or did you just newly–?
Daniel: I had been using some of the apps. I feel this is the story that you probably heard many times of just like, one of my close friends like, "All right, we're going to get you out of this sad, post-breakup hole. I'm going to help you set up your profile and we're going to get you out on some dates." I didn't really know what to put for my profile. We definitely spent an afternoon together, me and my friend, just going through my camera roll like, "All right, we're going to use this. We're going to put these random things about you."
We just cobbled together a profile. There was no real plan. It was just with the best intentions, but still very amateur hour. I had a couple of matches, but then I also didn't really know how to carry the conversations. There were a lot of negative feedback cycles of like, "Oh, they're not responding." Then, I started feeling like I was tiring out of the dating apps and everything.
The biggest obstacle he overcame
Ruby: Especially if you were just trying it out, you can easily feel exhausted after a while, because you're like, "What does work? What's not working? What am I doing wrong?" You're asking a lot of questions. It brings back to what you said, just feeling you're just not sure of any of it. What do you think was the biggest obstacle you overcame or the most helpful knowledge you gained?
Daniel: I feel in working with you in, and it wasn't just for dating, but I feel just across the rest of my life is not letting other people have that much influence and control over my life. For me, prior to my first relationship, I definitely had a lot of close friends that I was romantically interested in. There was just a lot of general fear of like, "Oh, well, I care too much about what other people think." I didn't want to offend them, because I still wanted to be friends and in the back of my head, I was like, "Oh, but maybe it'll be something more one day."
Having a Right Mindset is the Key
I think ever since working with you, I was like, "You know what? If there's something I want, I'm just going to go for it." Making sure that I have the right mindset.
If you set your mind to like, "Okay, I have to end up with this one person," then you're setting yourself up for failure. But I'm going to like, "I want to be in a good, fulfilling relationship," not specifically with say like Taylor Swift or something. That's completely unrealistic. Finding something that's realistic and achievable and then giving myself almost like permission to go and do what I want, rather than letting fears and whatnot hold me back.
Ruby: Wow. That's huge, powerful. I can't snap, but if I could snap right now, that's what I'd be doing. Because I've always said mindset is so key to success and I remember when we started working together, there was a lot of fear within you. You would say, "Oh, but what if she does this?" But "Oh, no, she did this. Now, I feel awful." What I like to say to clients is you don't want people to have power over you. That's the word. You want to hold your own power.
Summary of my guidance
Ruby: You want to empower yourself. But when you're allowing all these other girls, even though you are friends, to hold you in that way, hold that power, it can get very dangerous. It seemed you came back to a place of just taking one step at a time, being present, but like you said, doing what you want to do and feeling confident in that. So, that's really awesome. I love that. Give us a summary of how my specific guidance has helped you get those dates afterwards and obviously, your girlfriend now, but how do you think my actual guidance helped you with that?
Daniel: I feel it's very similar. I just got a puppy, and you can read a lot of stuff online but I've had a trainer come and I was like, "Okay, you're supposed to take them out and this is how you're supposed to get them to party outside." You can read a million paragraphs, but there's definitely something to having a trainer physically come and be like, "Okay, this is how you hold the leash. This is where you stand. This is how you react in this specific situation." Having a professional like read the room for you, if you will, I felt that's what you helped me do during dating. I didn't feel anything you told me was that much of a secret, or any Ruby secret sauce or anything, but it just felt–
But I could read one situation and read it the wrong way, and then apply the wrong things. Just like having your guiding hand of like, "No, that's bullshit. Don't put up with that from her. She's just playing games," things like that. I felt that was the most helpful. Also, I feel the other bit was just holding me accountable.
When he feels unmotivated
There are definitely parts, where I was just like, "Okay, I'm feeling lazy. I don't really want to do this." I feel you struck a really good balance of not being drill sergeant boot camplike, "I'm going to whip you into shape whether you like it or not." But at the same time, not letting me give you bullshit and get away with it. You gave me assignments and if I didn't do them well or something, you'd be like, "Hey, I asked you to do this. This is your dating life we're working on right now."
Ruby: Yeah, that's true and I love what you said. I don't even know what I would call myself. I'm not an intense football coach. but I'm also not just a cheerleader, right?
Daniel: That's right.
Ruby: That's just like, "Oh, yeah, go, go. It doesn't matter. You do what you want to do." But it's that balance, I still care and I would like to think you saw that. I care, but I think that's why I would push. So, if anything, I would ask you like, "So, why didn't you do that?" If you gave me an excuse, I'll like, "Is that an excuse? Daniel, is it?" I think you will remember you'd be like, "Oh, yeah, kind of is an excuse."
But of course, there are weeks. There are weeks. We're human. I think there were some weeks where you just fell off or it was really tough. We're like, "Okay, let's just take a break or let's just talk and then see how it goes." It's a balance. But I'm glad that there was a balance for you. I think you saw how important it was to you too and you never just gave it all up. You still decided for yourself. "No, I want to do this," and obviously, led you to where you are now. So, thanks for that. I appreciate you saying all that about me.
How He Feels Right Now
Ruby: Tell us a little bit more about specifically how you're feeling now. I know a lot of people, when they're single and they imagine what it's like to have that girlfriend, I can't even imagine what it'd be like, "What would I do with her? How do we hang out?" So, give a descriptor of how you're feeling now to be in this kind of relationship and how you enjoy your connection or enjoy each other's company?
Daniel: I think for me, I feel in high school, I had this, I don't know, Disney princess view of what life was going to be after you meet Prince Charming, or Cinderella, or something like that. It's not like that. It's better, but it's not like every day, I just wake up and I want to go sing a musical or something. But just having the confidence and knowing that like, "I can do what I want" has really helped me.
In the last six months, I've changed the job, got out of a job that I wasn't happy with, and went and found a new one that I like a lot better. There was definitely a lot of fear behind that. There's a lot of fear when you have change. I bought a house, I moved, I got a dog, and it feels good to finally do a lot of things that I've been thinking about and wanting to do, but just not really having the confidence to execute on. So, I feel in general, I'm feeling great, not just with my girlfriend.
How he sees a partnership
I think the other part of that is also not having my life fixated and centered around my girlfriend. She is a great and amazing part of my life, but she is not my life. I feel that's a very toxic thing to get into. Getting the confidence to be able to share these spaces. I feel great.
Ruby: Yay, I love that. I love the concept of partnership. That's why I've always called, even though he's my fiancée now, I call him my partner. In choosing her, at least name a couple of things that you saw that you're like, "Oh, she's a partner." Especially with everything you had going on, you say you got a puppy or a house, there's a lot of things you were doing, how did you already see like, "This person fits right in."
Setting his expectations
Daniel: Back in October, this was actually the first month we had met. I definitely set expectations with her. I was like, "Hey, I'm in the middle of the closing process right now and honestly, my life sucks, because random people are just calling me and I have to pick up these phone calls, and answer questions a million times over, because the lenders don't have their stuff together." She, I think, more than once sent me cupcakes or something. It was like, "Hey, I know, you're having a stressful day right now. Good luck.
You're almost through this." I think that was what really helped me realize like, "Okay, this is more than someone I can go out and have fun with. This is someone who's thinking of how they can support me in everything." It's somewhere on my desk here, but my desk is a mess now. She actually bought cupcakes and decorated the box and everything for my closing date. So, I told her I wanted to spend the first night in my new house.
After the close, we showed up in basically just an air mattress and there's nothing else in the room. We didn't have a fridge, we had nothing. But I was like, "You know what, I want to spend that the first night in my brand-new house." That was something that she was willing to do and she brought some apple cider, and some glasses, and everything. Those are the kinds of things that she does that made me realize this is a partner. They're thinking about me and us as opposed to just us as separate people.
The Meetup
Ruby: Right. Wow, that's really sweet of her. Very sweet. That's a perfect example of what it's like for someone to support you. I do want to also acknowledge, I don't think we said it, but just for the audience to know, you met her through what?
Daniel: I met her on Hinge.
Ruby: There you go. So, you made the dating apps work.  But that's fantastic and that also shows that you put yourself out there with your confidence enough that she feels this attraction towards you, where she wants to do those gestures. I just want to quickly note that as well.
Daniel's Stand About Dating Coach
Thanks for sharing that and moving forward with our questions. Many people are usually too scared to get help on this vulnerable topic. You touched upon how, "Oh, you had trouble with your puppies, you're not an expert on that," but still, with this kind of topic with dating, it can be very shameful, and especially when you are Asian. So, can you speak to that and what would you say to people who feel shameful, potentially asking for my help?
Daniel: I feel like if I hadn't stumbled across you out of the blue, I probably wouldn't have asked you to work with me and help me. But I think at the end of my last relationship, I had gone and taken just like a relationship communication course and then ultimately, from that course, I ended up paying the coach for some one-on-one sessions and that was really helpful for my personal development.
That was what started a lot of the things. He wanted to help me with online dating, but I didn't really click with him that well. He was advocating for me to write a long form, three-page essay about myself on OkCupid. I'm like, "That's not what people use nowadays."
I think that was what set the stage, but I guess, what I would have to say for people, who are hesitant is you don't have any shame going to the doctor when you're sick. You go to the doctor, because the doctor is able to tease out the nuance. For us, average people, everything just sounds like a cough. But the doctor with that stethoscope, they're like, "Oh, I think you should get this x-ray. You should get this checked out. Let me try this medication." They have this whole list of things to try.
You may think that going into the doctor is a pointless exercise, because they'll prescribe you amoxicillin every single time. But the thing you're not seeing is the one time where amoxicillin won't cut it and they're like, "Oh, here's this other thing." That's what I realized, like, "Well, we don't have any shame going for help for other parts of our life." This is arguably one of the most important parts of your life.
Ruby like works with people on dating, but it's not just dating. It's about your mindset and how you hold yourself. I don't think you want to go into life coaching and whatnot, but you kind of get that all together as the package.
You can't get dating advice without general life advice as well. For me, after working with another coach and also going and talking with a therapist, I was like, "Yeah, you know what, there is no shame in seeking help for this." These people have gone through a lot of schooling and education, taken a lot of classes, and read a lot of case studies about things that average people just simply cannot have the experience of.
I would say that it's worthwhile going to a dating coach, the same reason it's worthwhile to go to see a doctor or to go get a lawyer, whatever. They simply just have that insight that you don't.
How valuable is this type of investment
Ruby: Right. No, great comparison to that. I always want to quickly know. I feel I've always said, I don't know, if I said to you back then, but if I feel with dating and love is such a huge area in your life. It really is. I don't know how you feel, but when you find that person, it completely transitions your life to be more fulfilling, if you are with once again the right person.
It's such a big area just as health, or fitness, mental, physical, emotional, all those kinds of things, but love is a part of it. Well, I'm curious. What made you think that this investment in me specifically was worth it when you first said yes. What was that kind of clicking moment for you were like, "Oh, yeah. Okay. I'll do it. I'll do this with Ruby"? Especially because like you said, you had other relationship coaches that were offered–
Our Clicking Moments
Daniel: I think initially, it was just how we clicked in our conversations. It was helpful that you had a similar approach to a lot of these things. Like I said, the other coach was trying to get me to write three pages about myself. He literally said to me this long thing and I was just like, "I'm not doing that." There were so many things that were grinding gears in my head.
I was like, "Okay, this might work for you, but I have so much doubt and skepticism about this." Whereas when I was talking with you, I was like, "Okay, I believe in most of what you're saying. I don't necessarily know how to get there, but like, there's no "Okay, yeah, this can't possibly work, but I maybe I'll humor her."' It was just like, "Okay, she gets it, but she probably also knows more about these things."
How glad he is to asked my guidance
Danielle: Then, I think when we were talking and you were giving these statistics about like, "Oh, this is how these specific dating apps work." I was definitely like, "Oh, I'm really glad that I reached out to someone who knows this." Because on the surface, every dating app is the same. It's an app for your phone that shows pictures and profiles and have some back-and-forth messaging system. But actually understanding how they match people, and what they do to your profile, how they show it, none of that is shown and that's what differentiates all the different apps. If you don't know any of that, you're flying blind.
Qualities every man should possess
Ruby: Right. Oh, awesome. I love all those layers to it. Because obviously, you're in a place right now, you went through it, you chose this, and people would look at you and say, "This is a success." But what qualities do you think, one, a client needs to be successful in this like you?
Daniel: I don't think you can be the first step in terms of this. In terms of being successful in dating, for me, I had read a whole bunch of like– It sounds very cliche, but all these self-help books. Mark Manson's The Subtle Art of Not Giving a F*ck, it was just reading a lot of those mindset books and sitting, I had a subscription to Calm, did some meditation, and just reflected on a lot of things about the seven years of that relationship, what went well, what didn't, and everything. I feel like I had to go through all of that to be in the right mindset, and then that was the motivation, to be successful, which is strange because it has to be something you care about, but then you don't care about at the same time.
When I got out of that relationship, I was like, "Man, I need to figure my stuff out. I need to go out and date, and I need to get back into another relationship." Ironically, that attitude got me nowhere.
Ruby: Right.
Daniel: This current relationship that I'm in, it just happened. I was like, "Okay, I have my life. I'm going about doing things. If I'm interested in you and we have a good conversation, then I'll continue putting time into this. But if I'm not, we'll part ways. No hard feelings. But I'm also not going to waste my time on someone that I don't feel a connection with." It really was once I almost stopped caring about it. It was no longer the focus of my life. I stopped thinking about like, "Man, I didn't hear back from that girl. I'm so bummed." It was like, "Okay, I don't even notice." I'm messaging people. If they don't respond, who cares? Move on to the next one. So, I feel that's what you need to be successful.
The Key to becoming successful
Ruby: I love that. Yeah, it's basically twofold. Oh, the overall umbrella is your mindset, but I think the key there is the desire for yourself to be better. Whether that means reading a book first, meditating, first is all layers. They always say the saying like, "You put your eggs all in one basket." It's not being so reliant that I will give you all your answers but that you accept that, you also take responsibility, and self-improvement yourself, and not completely already been like, "Well, only Ruby can solve it and she can solve it. I don't know what to do," so reliant on that, but the balance of it, that's what I'm hearing from what you're saying. Well, that's awesome.
Daniel's Advice for every man
The last question I want to ask is, normally people who are listening to this and especially those who have made it to the end are on the fence about deciding to work with me. So, what would you say to them right now?
Daniel: I would say, what are you waiting for? It was definitely a commitment. It was a financial commitment, it was a time commitment and everything, but I have no reservations about that. At the end of the day, this is your life. You can go and continue doing thrift store advice and you'll get a thrift store life. Go work with Ruby. Like she said, she is not going to be the one person that solves and fixes everything in your life. Nobody can do that. Only you can do that for yourself. But then at the same time, if you are in it to go, if you are motivated to fix your life and change for the better, work with a coach that knows what she's doing.
This is as much of an investment in your dating life as it is just yourself. For me, after working with her, I felt I just had confidence to do whatever I wanted. It didn't even only center around dating. It was just everything else. I was like, "You know what? I'm going to go do it." Salary negotiations for my new job, I was like, "Let's go do it. What are they going to do? Reject me, because I asked for more money?" Getting into that right mindset is so critical and I feel Ruby is really good at being a gentle, but firm coach on that front.
Ruby: Wow. The things you say, I know we talked about this before, wrote it all out, because thrift store, having a thrift store? That needs to be quote somewhere on those inspirational boards, because I was like, "Oh, well, I've never thought of it that way." But I appreciate all the words you said. And guys listening, I hope if anything gives you more to think about in your own decision of who you want to be, and how you want to get there, and the choices that you make.
Because as Daniel said, this is your life. No one can make you do anything, but it's about how you want to live it, and what's fulfilling for you. So, thank you so much, Daniel, for being here today for walking us through your story and your experience. That was awesome. And thank you guys for listening. If you have any questions, you know where to find me. But if you're willing to make that step, click on the link in the bio and we'll talk soon. But thank you so much, Daniel. And everyone else, have a good one.
Daniel: Thank you, Ruby.
It's hard to move on and find someone after separating from someone you thought would be the one you spend the rest of your life with, but there's a saying that what may not work for you is actually worked for you, it's the universe telling you that you deserve something better, but you need to go through the painful process to reflect, understand why it didn't work and learn from your experience. Keep in mind that you have the choice to let the event consume you or to take action as Danielle did.
Read more success stories here