Who would have thought that you can find love during the pandemic? Yes, It's really possible, as the saying goes "With every crisis, there is always an opportunity if you were the smart one to see it". In this modern day, with our advanced technology, there's now an option that allows you to easily connect with other people. Because of online dating, one of my clients who was able to get a date and find love during these trying times. I bet you can actually do that too! You just have to find the right resources and put all your efforts to make it possible! Below is parts of the transcription from Tommy's full video story below!
What does my advice make him realize?
Tommy: Why would a girl want to be with me, when there are a lot of other guys who can offer far more?
I realized that, thanks to you that, I have quite a lot to offer. I started getting a lot of dates using your advice, kind of really soon before we even got to the part about having the first date-
Tommy: -which is interesting. I followed your advice, and already people were jumping at me. I'm feeling great. I know it just started but I am very happy in this relationship. I like her. She likes me. We have a lot of fun together. She's just great, and I would not have been able to get into a relationship if it weren't for what you taught me.
He talks about his pandemic dating journey
Making the impossible possible
Ruby: Hi, guys, and welcome to another one of these videos where I have one of my own clients here sharing his story. I always love these stories, his dating success stories, because I hope it helps you know that you can reach this state or the progression that you want where they are now. Today, we have my client, Tommy. Hi, Tommy, how are you doing?
Tommy: I'm doing well.
Ruby: Awesome. Thank you so much for being here, and being open to sharing your story. Let's just hop right in. Can you tell everyone a little bit more about who you are, where you started, and where you are now?
Tommy: Sure. As you said, my name is Tommy. I'm 28 years old. I live in the Washington DC area. I'm a military historian. Before I met you, I dated a few women, went on dates, but I wasn't really successful in terms of actually turning those dates into relationships or those dates even into second dates. Thanks to the lessons you taught me and everything I learned from you, I'm now in a relationship.
Ruby: Yay, that's awesome. I just want to quickly note as well, you have a very interesting case because this has all happened during a pandemic. Everyone knows that this is happening, people find that almost impossible, but you were able to make that work, which is awesome. What would you say was your biggest obstacle that you overcame, or probably the most helpful knowledge you gained from the program with me?
Building up his confidence while learning to talk to women
Tommy: I would say it's twofold. The first one is building up my confidence, and the second thing is learning how to talk to women, whether it's learning how to attract women, or learning how to talk to them in relation to during a date, for example.
Ruby: All right, and would you feel that– you are obviously in a relationship now, but was it a quick fix for you to just learn how to talk to her, or was it a practice? You had to continuously practice progressing it in that way?
Tommy: Definitely the latter. I had to practice, read the PDFs you sent me, and took notes when we had our calls.
Ruby: Yes, you did. Yeah.
Tommy: It took a bit of practice, building it up to make it an actual instinct in me to follow the advice that you gave.
Ruby: I want to make a quick note, because I love how you said confidence, and that's what many men struggle with, at least when they start with me. Is there something that, let's say, you lacked confidence in before? Whether that be something a part of you, or maybe I guess how you talk to women, but that you feel really good about now? Anything a little bit more specific on who you are in your personality?
Recognizing his self and his amazing qualities
Tommy: I would say my own appeal and personality traits and characteristics, I'm not saying that I thought I was off-putting, I just thought that "Why would a girl want to be with me when there are a lot of other guys who could offer far more?"
Ruby: Right.
Tommy: I realized thanks to you that I have quite a lot to offer.
Ruby: Right. Gosh, I love that. I like that. That's a big one where it's like, "Why me, when there are so many other people?" But it seems you found your own unique self and recognizing that you have those amazing qualities. That's awesome. Give us a summary of how my guidance has helped you get the quality lady you have now, the one that you're in a relationship with?
Emphasizing physical touch during the pandemic
Tommy: For example, you emphasized– and this is a bit difficult with pandemic going on, but you emphasized the importance of physical touch, obviously, once it's appropriate to do so. As you said, women are emotional creatures, and it's important that the physical touch is an aspect, laughing with a gentle pat on the hand or on the arm or something. On top of that, knowing not only what you say is important, but nonverbal communication. This works for both regular dates and virtual dates. You don't want to be, for example, cross your arms.
Ruby: Mm-hmm
Tommy: Maybe lean forward, because it shows you're engaged. Definitely, all that stuff that you taught me, was 100% right.
Things that he learned about virtual date
Ruby: I want to quickly take a note of that for a second. You did virtual dates, then you transitioned it to in-person dates. What did you learn about doing virtual dates that you had to adjust or make it work to still connect with someone, because right now, it's obviously the pandemic still happening, and people find it almost impossible to connect with someone over a virtual date, but what did you find helpful to do?
What to do or say during the virtual date
Tommy: Well, when you're on a virtual date, there's a kind of– let's say, you have a virtual date scheduled for 7:00 PM. It's hard to know because you continue talking and talking when it's a good time to wrap it up, because if you're on a date for drinks, you had three, or maybe an appetizer, that's roughly the number of drinks before someone will get the check and leave.
So, I had to be aware in cognizant of time, bringing up after a certain amount of time saying, "Hey, I'd love to keep talking with you, but don't at all feel like you need to keep talking with me if you do want to go, whether you have the stuff to do, or where you want to go to bed." I brought that up just to be considerate of the person with whom I'm having the virtual date's time
Ruby: Yeah, so it's being more well, communicative in this case, which is what all virtual dates are, is being able to communicate, if you need to go, you can or what's going on, so, that's awesome. Just in general, how are you feeling now?
Where my guidance leads him
Tommy: I'm feeling great. I know it just started but I am very happy in this relationship. I like her, She likes me. We have a lot of fun together. She's just great, I would have not been able to get into a relationship if it weren't for what you taught me.
Ruby: I'm so, so happy for you. Do you feel she was the lady that you were trying to get at the beginning of all this? Does she fit the qualities and the connections you've been looking for?
Tommy: Mostly, she does, but I think some things surprised me, which were the fact that– some of the couple of the traits that I was looking for in the ideal woman, she had, I wouldn't say the opposite. She didn't necessarily have those traits, and yet in a way, it had made me more attracted to her. I learned some stuff about myself as well.
Ruby: It's like, well, growth in general. Sometimes, you think that someone could be the ideal, and it's not like, as you're saying that the complete opposite, but maybe they don't have that one trait, but you're recognizing she has other traits, I assume, that really help you two connect.
Tommy: Yes. Traits that she has that I realized that I liked that I didn't originally list as traits that I would want in an ideal woman.
How they manage to keep the connection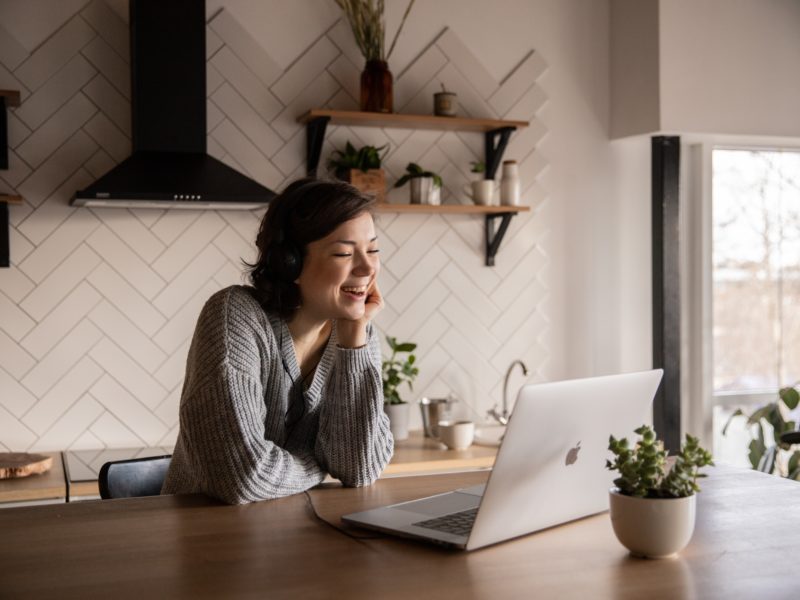 Ruby: Lastly about that, what do you think is the journey of you getting into a relationship. What really helped build, I guess, you two's connection and allows you to get in this place? Because like we said, you did virtual dates, things like that, but how did you feel that you kept the connection up during all of it to get into the relationship now?
Tommy: Well, be it a virtual date or an in-person date, we had our dates often, once a week roughly. When we were in person, and obviously, we took precautions in terms of protecting ourselves from COVID-19. It was important that we had as much of a connection in person, as we did– just whether it was talking or just the non-verbal stuff that you usually wouldn't give a second thought to.
Tom: Asking guidance is not a form of weakness
Ruby: It's paying attention to all of it. Whether that'd be verbal or non-verbal, and at least for you. What I've also noticed that you really did, which is great, is you always stayed creative on your dates too. I think of all the different virtual days, you guys would do something different, right?
Tommy: Yeah.
Ruby: Yeah, so keeping that up and having different conversations, that's awesome. Many people are usually too scared to get this kind of help. It's such a vulnerable topic, and it can feel shameful at times, or weird to say you want a dating coach, things like that. Can you speak to that, and what would you say to them?
Tommy: I will speak to that because I had no problem contacting you. It is not at all a weakness to admit– and this is in relation to anything to admit, you're not perfect, and then you can improve on certain aspects of yourself. There's no perfect person. Everyone should try and improve themselves as much as they can. This is a thing that I realized I really need improvement on because I want to find a girl to be in a relationship with. I realized in order to do that, there are some things I needed to work on majorly. I realized, "Well, I can't do everything all by myself." In certain situations, such as this, I want to contact you and get the help of an expert.
Why does he need to pull the trigger?
Ruby: Exactly. I always say that too, as well. In any area, it's funny how it's so interesting to talk about literally every area. Whether it be career or fitness, it's okay to ask for help, but it feels weird to do this, which is actually just the same. It's all about self-growth at the end of the day. When you first said yes to this investment, knowing how much it would cost as well, what was it that made you go, "Okay, I'm going to choose, Ruby, and I'm going to do this."
Tommy: Well, first off, I went on your website, and I did my research, and everything that was advertised about you and your service really appealed to me. I realized also in terms of why I need to pull the trigger on it that I wasn't an unhappy person, but I realized I would be far happier being in a relationship, I kind of wanted that. I used to not be a relationship guy in high school and college. Also, in college, I wanted that. I had a couple that didn't really work out because I didn't follow the advice that I learned from you. I know, ahead of time, who knows?
Yeah, and I realized that, so I figured, happiness is important to every person I would think. I want to be happy because I want to be in a relationship, and to do that. I've got to improve on how I am able to attract women, do well on dates, and then be able to transition dating into an exclusive relationship. That's why you appealed to me, I knew you had the knowledge and guidance and wherewithal to be able to educate me on that.
How he gets into a relationship in a short period of time
Ruby: Look at that. Could you ever imagine three months later, you'd actually be in a relationship? Not too many people can. They usually say, "Oh, I hope I get more dates," or at least a couple of dates, but did you ever think three months ago that you'd be here?
Tommy: I didn't think would– It happened so fast. I started getting a lot of dates, using your advice really soon before we even got to the part about having the first date.
Ruby: Right.
Tommy: Which is really interesting. I followed your advice, and already people were jumping at me.
Ruby:  Not a bad problem to have. What qualities do you think one needs to be successful in this and be where you are? Dating successfully or being in a relationship, what pieces of advice do you feel these guys coming in, that you would advise them to keep growing and to be successful?
Tom: There is always room for improvement
Tommy: Always be willing to learn and educate yourself. Don't think there isn't room for improvement, because there always is. Recognize that sometimes it isn't your fault if you think that you swing and miss when it comes to a date with a woman. It isn't necessarily your fault a lot of the time. Some women just aren't interested, and they have the right to be. Some women aren't looking for a guy at the moment you think that you try to attract them. It doesn't mean there's something wrong with you. Especially, I would say listening. Listening is very important.
Ruby: Wow, I love that. That was really good because I feel– also, I really appreciate you and working with you. Like you were saying before, every single chat we had, I could tell that you read through the PDF, you went through all the questions, and that is extra work, but you listened, and you took notes on top of it. You really tried to take in the information, execute and implement wherever you could, and that takes that kind of focus.
Tommy's stand about my strategies
Ruby: Sometimes, it's on the phone when we talk, so I wouldn't know if you're not listening. You could be distracted, walking around, or maybe you're 50% there. I think what made you so successful is that you really trusted the process, and as you said. I think the most important thing is just listening. That's awesome. To wrap this up, people that are listening to this are on the edge of potentially working with me or getting some help, and they're not sure if they should or not. Can you just speak to them, and what you would say if they're deciding?
Tommy: What I would say is, don't worry, she's a genius, and she knows what the heck she's doing.
Ruby: I love that.
Tommy: Put some faith in her.
Ruby: Thank you so much, Tommy, for all that. That was great. It sounded like one of those really powerful ending lines. It's almost like, "Just go for it." That's awesome. Thank you so much for joining me today. Thank you so much for sharing your story. I'm so happy for you and the relationship that you're in. Good luck to both of you, and I hope you continue on this successful journey.
You even texted me, like, "I hope I can keep up the good work,". Just because you're in a relationship, that doesn't mean that you're all done, right?
Tommy: Exactly.
Ruby: You have to keep going in that.
Tommy: Yeah, you have to keep being conscious of the fact that you're with another person. You've got to be mindful of what they say, what they do, and what you say and what you do.
Ruby: Exactly. All right. Thank you so much for joining us today, Tommy, and thank you, everyone, for listening, and until next time.
Getting a date during the pandemic is a success but getting in a relationship during the pandemic is a HUGE success, and am so thrilled to witness how Tommy's dating journey revamp after learning a lot from our one-on-one coaching. I hope to see more of a successful dating journey.