Schedule your Free Strategy Call:
Time to stop the confusion in dating and start getting dates.
**Serious inquiries only** If you are ready to invest in getting results and, finally, get qualities dates, then book a call below to see if we'd be a good fit to work together.
Scheduling a time does not guarantee  a call. Based on the answers provided or lack of information provided, your scheduled call may be cancelled. This is an application process as time and spots are limited.
Who will you be talking to?
Tedx Speaker, previous eHarmony's Lead Matchmaker & Coach, with almost a decade of experience in the dating/relationship field...Ruby Le.
Watch her Tedx Video below.
Wonder what you're doing wrong?
If you're confused on why you're not getting the quality dates you're looking for, why women are disappearing on you, why you get the "you're such a good friend" or.....simply confused on it all "where do I even start?"
Then, it's time to get the answers.
What's the point of getting on this call?
I will learn more about you, your dating obstacles, give a blueprint of how you'd get to your results, and see if I'd be the best support and guidance for you to get there.
Let's hear the answer from men like you:
Watch these videos of real clients' experiences and successes.
Hear from a divorced father not wanting another bad date now in a new relationship, a 41-year old with zero dates in his life and social anxiety reach 5 dates in 3 months, an exhausted man who gets dates but never the right quality finally date from a dream lady, an introvert who had zero online dating success in 2 years get matches in a day, and more!
I've been going out with an amazing woman I met at a bookstore and also, received an overwhelming response online and offline. This happened after immediately working with Ruby. She was very attentive as to what I was looking for, my expectations, and what I would usually do in meeting partners.. I am extremely shy and feel awkward when trying to talk to new people, so her advice on how to approach women, be confident, and move past my internal struggles was very helpful. If you are in need of some help finding a date, approaching someone, or just being social in general, I wholeheartedly recommend you seek her out. The amount of help I received from even just one session has proved to be invaluable to me.

Adan

30, Evaluation Tech
I'm divorced with full custody of my young child, so I take my investments very seriously. Deciding to take the plunge to get Ruby's help was the most efficient use of my time and money. I stayed open-minded, took her feedback/advice, and met an incredible woman in 2 weeks. She's intelligent, funny, and we're going on our 5th date next week. If it wasn't for Ruby, I would have never met her. I did not think of even searching at that location. Sometimes, you have to push through the fear and go for it. Yes, there were struggles and dating is still rough. But, you're in great hands with Ruby. She really cares, she supported me through all the obstacles, and works harder than me, hah.

Tuan

47, QA Engineer
Schedule a FREE call with me today
On the call, we will figure out what your struggles and obstacles are to finding the one.
On the call, we will figure out what your struggles and obstacles are to finding the one.
But really, how can I help?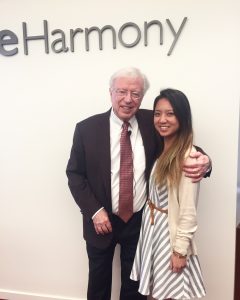 I have dedicated my life to helping people find that special someone. I am a dating coach who helps the good-intentioned gentleman get on a date through a customized strategy that doesn't require them to change who they are. People call me the Modern Day Hitch!
I am not your typical dating coach who just woke up one day thinking I can randomly start a business by helping single men because "I'm a woman and I have personal experience dating." I am your dating coach who knew her passion since high school and got the experience to help you.
I worked for the matchmaking firm It's Just Lunch and was the lead matchmaker & Coach at eH+ by eHarmony. I earned a Masters degree in Marriage and Family Therapy from the University of Southern California. I worked in mental health with couples. I, also, appeared on Tedx, speaking about why everyone is single.
I use my extensive experience from previous matchmaking firms with a combination of training in marital counseling alongside, yes, personal passion and experience to provide my clients the best and most effective strategies in finding and keeping long-lasting love. With my positive energy, hope, and passion, I value the collaboration with my clients and am always excited to guide my clients on the journey to find lasting love and happiness.
 Not only do I feel most rewarded when a client gets married or in a happy relationship, but what makes me more ecstatic is seeing them re-gain hope and confidence in love again.
Because do you really want to stay alone, in the unknown, for...how much longer? I see too many men say "they'll try it themselves" to find themselves still single after wasting 2 more years of running in a circle. That's 2 more years of being alone.
You don't have to do this alone.
This career of mine is my passion because I'm so tired of society putting great guys like you down, praising pick-up artists, and women not giving good guys a chance. I started this to make a difference and change the game. And it all starts with you. It starts with us.