Ed get a girlfriend at the age of 42
Some of the clients that I've previously worked with are over the age of 40. They've decided to reach out and invest in learning skills that will make their dating game elevate to the next level, just like Edward! Who got his first girlfriend at the age of 42 before even he finishes working one-on-one with me.
Edward is a software quality assurance engineer, and he's been in the dating game for quite some time, but he didn't have very much luck using different dating apps. His story will surely inspire those single men in their 40's to go the extra mile to become successful in their dating journey. The following is the verbatim of our conversation and revised for clarity.
A little bit of Ed's background
Edward: Okay. You all know, my name is Edward. I'm 42 years old. I'm a software quality assurance engineer. Before working with you, I was just using dating apps such as Match, Plenty of Fish, eHarmony, and didn't have very much luck. But now, I'm in a relationship. So, it's all great.
Ruby: Yeah. That's all we wanted, right?
Edward: Yes.
Ruby: That's all we wanted. Fantastic. Oh, and I wanted to touch up on this. I know you did use platforms before. Did you get many dates out of them, or did you have any dates before? How long did you go without one? It's been a while now since we talked about that.
Edward: Well, I didn't get many dates through those apps, not even a lot of views. So, it was very frustrating. But working with you, part of it was, updating my online profile and that really helped, because I got a lot more hits and actually went out on a few dates. It was great.
Ruby: Great. Let's backtrack a little bit and talk about you came with a lot of different obstacles that we wanted to overcome. What is the biggest obstacle that you did end up overcoming in this process?
Edward's greatest hurdle
Edward: Well, for me, the greatest hurdle was social anxiety. I have been dealing with it for most of my life. So, it was very difficult for me to approach people and just even the idea of talking to a girl left me in fear. Going on dates, was very awkward, and it was very unsuccessful, didn't lead anywhere. But now, I feel very comfortable going out and approaching women. So, win, honestly, all around.
Ruby: Fantastic and just to help others out in meeting women offline, where are some of the public places that you did end up just talking to women?
Edward: I was talking to women at grocery stores, at museums, out in public, basically.
Ruby: Yeah. Great. Now, tell us a little bit more about how my guide helped you in getting the woman that you have now.
How my guidance has helped him
Edward: Mindset is the most important one
Edward: Okay, sure. I was provided with a lot of modules covering topics such as dating, flirting, mindset, and other ones. In my situation, the mindset was the most important one, and the most beneficial one. Once I learned to reframe my thoughts, I felt more confident and ladies noticed that too, and not just them, but friends and stuff like that. Things just snowball from there and so, it was a good, solid foundation that got established and it helped with every other topic afterward.
Ruby: Fantastic and now the exciting part. Tell us a little bit more about who you're with now and what you think probably was the most helpful advice I gave you or concept to help you get to where you are right now with her.
Edward: Well, right now, I feel great. I have a great sense of pride, amazement, and joy too because I made a lot of strides in dealing with my social anxiety. Also, with just learning the ropes with dating women. Now that I'm in a relationship, it's great. It's a great feeling, especially around this time of the year during the holidays.
Ruby: Not a lonely holiday.
Edward: Yeah.
What does really matter
Ruby: Good to have that. Great. Because I know we talked about her for a while, is there anything specific that involves her that helped in the sense of either communication or the way you had to handle it? Because you could have just become girlfriend-boyfriend out of nowhere
Edward: Right.
Ruby: I know we went through that for a while.
Edward: Yes. Communication was the most important one. Learning the cues about flirting with her, and also how to also give off those cues too so she knows that I'm interested in her in a more kind of intimate situation or relationship. So, that really helped in just terms of when in the dating process I have to make the move to convey to her that I really like her. So, yeah, communication, learning the cues, stuff like that really helped.
Ruby: Great. I like how whenever you mention her, yeah, you have a smile on your face.  This leads me to ask, how are you feeling now? Are you still surprised with yourself?
Where is he right now
Edward: Yeah, I never expected to be in a relationship at the end of the program. So, it's great when I came into this with the expectation that I will learn these new life skills. And also, the other thing I want to get out of it was dealing with my social anxiety so that I can talk to people and work with them and just go out and stuff like that and enjoy my life.
Ruby: Exactly. Many wins, basically, which is great.
Edward: Yes.
Ruby: So, I want to help out the viewers and answer some kind of popular concerns that I hear. There's a lot of stigmas when it comes to seeking help on this vulnerable topic. It can be shameful. Can you speak to that and what do you have to say in regard to that and your reasons for overcoming that?
Edward: Basically, don't be embarrassed about it. Everybody had to learn it at one point or another.
Ruby: Yeah.
His stands on getting a dating coach
Edward: Think about it this way. One time, people thought that dating apps were taboo. Now, it's ubiquitous in our social life.
So, asking for help with finding a date from a coach like Ruby, it's nothing. Just do it. Trust me, the reward outweighs the risk and the embarrassment. If those people make you feel uncomfortable, I don't think you should be around them. That's all.
Ruby: Powerful. That was powerful. Now, in particular, for you, you got one of the longer packages, which means that it is more expensive because it's a long time.
Edward: Yes.
What made him decided to make an investment
Ruby: What are the reasons you noticed that you decided to take on the high investment? How did you reason that it was worth it compared to the lower one?
Edward: So, I felt that it takes time to learn these life skills. It doesn't just happen overnight, so I felt like having a longer period gave me the opportunity to actually try out these new skills that I learned and make mistakes, and at the same time, have you around to analyze what I did wrong, and tell me that, "Oh, you should have done X, Y, and Z instead of that." So, it was great having you around during this long period of time.
Ruby: Yeah, that definitely helps with your personality too. I remember in a sense of the pace of it when you have a longer time, you can process a lot, instead of everything is very short and very quick.
Edward: Yes, that was another point too as well. Just having that longer period of time gives you the opportunity just to learn more and then have you learn my personality, and then customize the program to what I need that will be most beneficial to me.
Ruby: Exactly. All right, now, what qualities do you think someone who is interested in working with me, what do you think they need to be successful in this?
Edward: I would say that they need to have dedication, definitely courage. Trust in yourself, and also trusting Ruby. Be open, honest, and just be able to work hard. Because the more effort you put into it, the more you get out of it.
What he can say about my coaching style
Ruby: Exactly. Now, a couple more questions left. How would you describe my coaching, and what you've enjoyed about it?
Edward: You're very open and very fun to work with and very flexible, I would say. Whenever I'm having a hard time, you give me some more time to say, "Hey, you need to bounce back from this low you're in," because you understand what we're going through and sometimes life could just be overwhelming, or a mistake I made or I get dumped by somebody, or I got ghosted, then you give us some time to recuperate and get back on the ball.
Edward: Other times, you are like a football coach. You push us because you know that if we're not working and we're giving some excuses, you're like, "Hey, come on, you've got to get on this."
Ruby: I don't let you get your own way sometimes. Sometimes I do, but sometimes I know it's an excuse.
Edward: Yes.
Ruby: But the best part is that I think an important part we were just talking about, what qualities you need to be successful is that you always took it like a champ though. You knew as an excuse within yourself when you saw that instead of arguing back. So, it's just accepting that sometimes, you have to get that push and you have to accept that push if you want it.
Edward: Yes, definitely.
Ruby: Fantastic. All right. So, once again, thank you so much for joining us today and sharing your story. Any last comments or thoughts for the viewers watching right now that are on the edge of the brink, possibly joining and getting coaching? What would you have to say to them?
Edward: A worthy Investment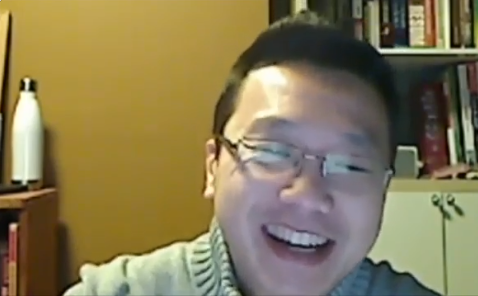 Edward: Definitely do it. It's worth the investment. I've learned so much and I've accomplished so much over this period. So, it's definitely worth the money, and the time and effort you put into it, to actually have a coach who understands where you're coming from, to also have the perspective of the other sex–
Ruby: I am a woman.
Edward: Woman, yeah. It's good because you can see you get perspective from both sides because you know what we're going through, and you know what the ladies are thinking about too as well, and that really helps.
Ruby: Yay, fantastic.
Edward: Just do it.
Ruby: Just do it, as Nike says. Yes. Great. Thank you so much, again. I am so happy for you and so excited about how 2018 is going to turn out for you.
Edward: I'm looking forward to it.
Ruby: All right, thank you so much again, Ed, and have a good one. Good night.
Dating is not a walk in the park even if you hit 40, it might be challenging compared to your youth, but the real strategy here is learning the skills and seeking someone who can make your dating journey a lot more convenient and meaningful like what Edward did.
This kind of journey motivates me to go beyond my abilities to help anyone who needs my guidance.