Is she's texting you but won't set dates? Let me talk about this confusing situation where she's texting you, she might be even calling you on a daily basis, but she won't set dates. What's going on with that, what does that mean, and what can you do? Well, I will be going over that today.
The first thing I want to note is this is for those situations where you have mutually matched and there is already an understanding that you guys are here to date. So, this is not for those situations where you are friends with her for a long time and she texts you every day, because at that point, you're not sure if you've actually agreed to date, and that's a completely different situation. So, this is for those moments when you expect to date because you met normally on an online dating app. This is when that normally happens.
It could be from single events or friends setting each other up but once again, there's already that same understanding. So, you kind of expected it to happen and it gets a little confusing when time goes on, but there's no date. And more confusing, because she's obviously spending time with you through text or phone calls, but nothing else.
Subscribe to my channel to get new dating advice every week.
Reasons she won't set dates
She May Not be Ready for a Relationship
Let's talk first about, what could this mean? Well, the first reason or the first potential theory that this could be happening is because she wants that companion to talk to you (to text), to call but she's just not ready for an actual relationship or not ready to commit. And she has the fear of potentially having to deal with that. Because once you actually go on that date, now you're going to have to handle more of those dates and have to figure out what you feel. What if you're just not at that space in your life where you're just not sure what you want?
This ebook has the ultimate plan for every good-intentioned man to find his true love, no matter the previous failures
Download your free ebook here: 5-steps to Quality Dates
Cherish this eBook: it contains more than a decade of proven wisdom from my vast experience with single men as a couples therapist, matchmaker, coach and previous eHarmony lead.
And that's valid, but most of the times girls aren't going to be that straight up about it, which is really unfortunate. You want her to be straightforward about it but until you sometimes ask, she doesn't want to because she likes having your company around, and she doesn't want to lose that. That is one reason. Remember, most of the times it's across the board. She's treating other people this way too. So, don't take it too personally and that she's not interested in you because that's just not the case. If she's not interested in you, she would not be texting you, period.
She May be Busy
The second thing that could be happening here is, she quite honestly has a really chaotic, busy, or potentially unorganized life. She'll maybe set dates with you, but then, she'll cancel, but then she'll also say, she's not sure when she's free, those kinds of excuses are happening. They really could be valid reasons, because she unfortunately just can't get it together enough to make dates happen. So, that's another potential reason.
Could be a Scam/Catfish
Number three, which is the most scary and dangerous one is, she may be catfishing you or potentially scamming you. Well, but scamming would take a lot more like obvious signs, which I will talk about in another video. So, look out for that. But catfishing, they're not really trying to take your money, but she's just trying to delay the day she actually sees you or you see her, because she doesn't look like her photos. So, we want to make sure that doesn't happen to you so you're not dragged along all this time thinking you're talking to someone when it's someone else. So, what can you do?
Understand First
Number one, what you can do is, always try to understand first. Understand what is happening, like what is going on with her life, and why is it that she can't even hop on an hour to dinner, lunch, or breakfast with you? But try to understand. Don't ask her, "Why can't you hang out with me?" Just really try to expand on all the events she has going on.
There are a lot of situations that people can go through that you don't completely know until you actually ask her about it. So, make sure you fully understand what's happening in her life because that could give you a better understanding that makes you feel at peace. Then, it's helpful at that point too to ask her, when can I see you? Or, with all the craziness that's happening, when do you really think we can actually meet? At that point, if she says something really far in the future, it's up to you to wait or let it go.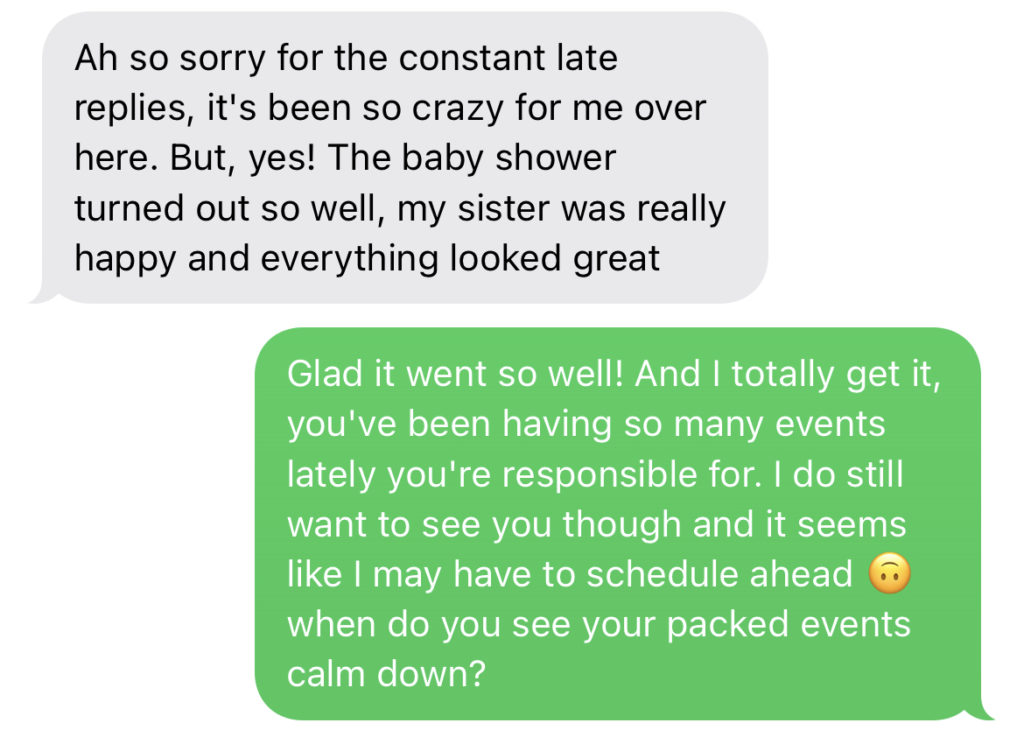 Try Other Ways to Date
The next thing you can do is make it work, but the only way you can make it work is to do video dates. Video dates are everything because phone calls allow her to be masked, you don't see her. But people can be doing all sorts of things and be anywhere on a phone call. But a video call, you see her and you're actually spending time together. You're face-to-face, that's still a date. It's still a date. It still works. So, if she's so busy that she can't get out of her home, then make these video dates happen.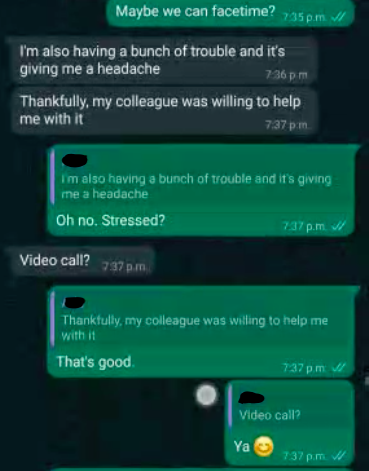 Now, f she can't even do that, that's quite alarming. Unless you're in a long-distance relationship, which makes it fair & valid because you literally can't see each other or also take a plane ride or a three-hour drive. If she can't make video dates work, I would say already, it's a pretty high sign that either she's a catfish or she's lying about being in the same city as you.
She's not in your city or even in your country. Because if someone is in your city, why can't she meet you in person? And number two, why not just FaceTime? You're in the same time zone, why would that be such a weird thing? Already, she's rejecting, that just be more concerned. Be alarmed when you receive a text similar to below:

Send a Straightforward Text
Now at that point, if she doesn't set any FaceTime dates with you, video dates with you, and she keeps sending away dates, send that straightforward text. It is time to set some boundaries, vocalize what you want in a relationship, and see if she pulls through. Don't just keep doing this yourself and drag yourself along or drag her along.
So, it's important to send that text that basically states what's been happening, what you want, what she hopes to see, and get clarity. Make sure you tell her the point of this text or call, because once again, a lot of times, you guys would be calling the girl, you can say,
"I just want to make sure we're on the same page and that we want the same things. I want to enter into a relationship where I'm actually seeing my partner more than once a week or at this point, I haven't even seen you in two months. So, I'm just curious how you hope this works. Because I'll be honest, I can't continue down this for another for six months. So, what do you think we can do? What are your thoughts?"
And then, leave it to her what she says. I would suggest, if she says, "I just can't date for a while," then you can simply say, "When you're ready to date, when you have time, let me know, and I'll see where I'm at, but we'll see if it can work out because at this point if this is going to continue happening, this is not a connection that I'm desiring or a relationship that I want. I want to be able to connect more." That's that.
Set your boundaries as early as possible
You got to put your foot down at times, guys. State what you want and make sure to protect yourself too. Make sure you're not being catfished or scammed and make sure that you have someone that is as interested in you as you are with them, but you set the boundaries for what your relationship is going to look like.
And if in the beginning, she's already flaking, making excuses, and not making dates happen, then set boundaries. And hey, I do want to say that it definitely has happened before where girls would turn around say, "Oh, my gosh, I'm so sorry. I know I've been so flaky, but I promise you, in two weeks," and then they do meet each other, which is great! That's the result we want.
Just make sure what's really important is that if this keeps going on for a while, say something about it. But don't judge, say it respectfully from a place of trying to understand, from a place of remembering, "I'm just trying to make sure we don't waste each other's time. I want to make sure we're on the same page." And that's that.
I hope you learn a lot from this blog. Thank you so much for reading this. There will be a blog about scammers because you want to stay away from them. Again, make sure you get on those video calls, make it work, vocalize your own needs, and take it from there.
Texting can be a great way to break the ice and to get to know each other. In the link below I will show you the formula that will lessen the confusion when messaging and get the date. Find out here!