"Should I initiate physical touch on the first date?" This might be lingering in your mind while waiting for your first date to happen. But let me discuss this matter further. Going on a first date might let you wonder if should you hold hands, or should you lean in. Should you kiss her? That's what I'm talking about today.
Click here to subscribe to my channel to get new dating advice weekly.
Gentlemen don't cross boundaries
Speaking of the good-intentioned gentleman, I get a lot of questions about physical touch and barriers, especially for the first date from my clients, because my kind of clients, they consider themselves really good guys and good gentlemen. They are normally more introverted, reserved, and shy. They obviously don't want to make a woman feel uncomfortable. They don't want to cross any boundaries, so they want to lean to the sides of not doing anything at all. At the same time, they know that if you don't do anything, you may not show interest.
If you don't show interest, she doesn't know she's interested in you and then you get friend-zoned. It can be a very confusing topic. That's why I wanted to definitely discuss this today.
This ebook has the ultimate plan for every good-intentioned man to find his true love, no matter the previous failures
Download your free ebook here: 5-steps to Quality Dates
Cherish this eBook: it contains more than a decade of proven wisdom from my vast experience with single men as a couples therapist, matchmaker, coach and previous eHarmony lead.
Should you initiate physical touch on the first date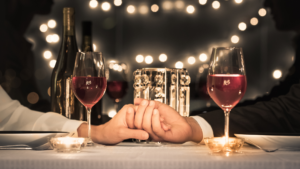 One of the main questions is, should you reach for her hand? Should you put your arm over her? Should you kiss her at the end of the day?
Well, my answer to that is depending on her responses and depending on your chemistry and connection.
I know, kind of vague, but that's what it really is. I'm pretty sure you know that there are definitely people who have kissed on a first date and embraced, but also at the same time, you know that there are people who didn't kiss on the first 2nd date, but they're in a happy relationship now.
It's not necessarily a determinant of whether you will succeed in the relationship dating portion, it really is about where are you two on this date? What's happening? Do you feel the sparks are flying?
Watch her green flag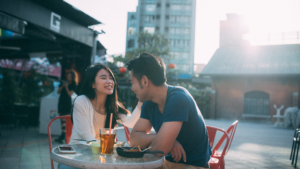 The first part is looking at her responses. Is she really receptive to everything you're saying, she's laughing at all your jokes?
Are her non-verbals very intimate? Intimate, in the sense of she's leaning in and listening to you. She's maybe potentially playing with her hair, but more importantly, she taps your shoulder when she's cracking a joke, she's leaning in if you're next to her, shrugging a little bit at you.
If she does any of that, she's reaching out. If she is reaching out to you, that's a green flag right there !
I would suggest you reach back out, hold her hand, link arms, and put your arm over her shoulder. If you guys are walking, or sitting on a bench, make it happen.
See if she's reaching out. If she is, it's really up to you. If you want to wonder about ending the date with the first kiss? I would normally say just make sure to end it with a very long embrace.
If anything, you can kiss her on the cheek, but save that first kiss for the next date, it's exciting. If you really feel you want to kiss her and you can really tell she wants to kiss, you can feel it.
There's actually no question of that. I don't think you would need this advice if you felt that.
What if there is no green flag
Now, what if it's kind of vague? You guys are having a good day, you are really vibing, you're having a great connection, and you're having great discussions, but there isn't any kind of overt response or outreach from her.
I would say at that point, only use physical touch when you are being playful. That's always safe. You're cracking a joke, once again, you can tap her shoulder, and lean in a little bit.
If you guys are walking, exploring the town and it's cold, you can be next to her and playfully bump into her and say, "Man, it's really cold out here, huh?" Make those playful gestures, and outreach in that way and see how she responds.
See if she pulls away or if she stays. If she stays, that's actually a good thing. It doesn't mean she needs to reach back out to you.
It just means she likes it, and she'll accept it. I think as long as you make those outreaches, that's already showing interest.
Remember the key gestures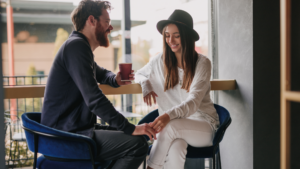 As long as in conversation you're leaning in, you're getting closer to her seat-wise where you're sitting, all those minimal actions are still are showing interest and won't not friend-zoning yourself.
The most important gesture here in regards to physical touch that makes sure the interest is there, is at the end of the date, the long embrace.
If you really like her, make sure you go in for that hug. When I say hug, don't do the top one-arm hug. That really confuses ladies. If you really like her, both arms, embrace her. Hold it longer than you normally would a friend.
Pull back, look at her, and say you had a really good time, and that you hope to do this again, and then let go. That's really, really, really, important.
That long embrace doesn't feel like you would do that to a friend. Make sure you hold the embrace, and that's the minimum I would say if you're unsure to do for a first date, that's it.
Avoid boundaries without signs
If there are no other signs, if there are no other things she's given you, I would say don't cross boundaries because some ladies are slow to warm up.
Even if she pulls away the first couple of times on the first date, don't take it to heart. Like I said, some women aren't as comfortable with physical touch right away.
What I would say to that is just keep track of that. If she keeps doing that on the second and third date, because obviously, she wants to keep dating you, if she keeps doing, then you can obviously bring it up.
Discuss how to make her feel at ease
If she keeps pulling away, at some point, you can say, "Hey, I've noticed every time I reach for your hand or arm, you pull away. I don't want to cross any boundaries, so I just want to talk about how comfortable you feel with physical touch." That's it. You would just bring it up.
All right, that's it, guys. So it depends, read the room, read her, how do you feel. If you feel you want to reach out, reach out. But in those small, normally in the playful ways, don't get too serious.
It's normally on the second, and third dates, that you really lean in and make that attraction happen. I hope it helps, continue on those first dates. So, be playful and tap her on the shoulder.
Make a game plan to feel more confident when you go out on a first date, and you may find that you feel comfortable enough to initiate physical contact. Learn how gain more confidence so you can initiate physical contact below
Click here