This topic is about "the signs of a romance scammer," the one person you do not want to fall for. It's absolutely heartbreaking to read and see some of the stories I've seen about guys getting wrapped up around these ladies' fingers. It's really upsetting. The thing is these ladies know what they're doing. So, even if I saw the signs and I tell clients or other guys to leave, they stay because they got you hooked. Just like the text below from a client after I told him to not send any money anywhere: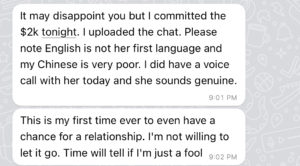 So, I really want to go over this because a client was willing to share his messages he had with a scammer, and he wanted me to make sure this doesn't happen to anyone else, and he gave me permission to screen share/screenshot these images so you can see exactly how they talk. As I go through the signs, I'm not just telling you, "Oh, this is what she does," you're literally seeing how she words it, and how she responds to everything he has said. So, in hopes of helping at least one of you guys out there, it would make this blog worth it, and of course, we are really grateful for that client to be willing to share this conversation with me.
Subscribe to my channel to get new dating advice every week.
What is a Scammer?
Let's first talk about, what is a scammer? A scammer is someone who extorts you for your money and really tries to take anything (or all) out of you. Now, this is different from a catfish. I feel like people talk about, "Oh, women are scammers," but scamming is about the financial and personal information of that. A catfish is someone who's a real person and wants to date but either they don't look like themselves anymore or they use someone else's photo (mostly out of insecurity), which obviously is not good, but I will discuss more of that in another blog.
This ebook has the ultimate plan for every good-intentioned man to find his true love, no matter the previous failures
Download your free ebook here: 5-steps to Quality Dates
Cherish this eBook: it contains more than a decade of proven wisdom from my vast experience with single men as a couples therapist, matchmaker, coach and previous eHarmony lead.
This is more about making sure your personal information and your finances do not become compromised. That's what a scammer truly is, that's when they're after it. The most recent trend is through crypto platforms that aren't actually legitimate or real. That's how they do it. That's the example. I'm going to be sharing with you today, is someone who is using crypto to gain information and finances from this client. I'm going to start by giving you the story of it because through the story, you can see the signs of what's happening.
How do they start to lure you?
Let's use you as an example for this story. You are on an online dating site, which is where it normally happens. You see this cute girl and she matches with you and you get really excited because you get excited about any match, right? Everything starts out normally. She asks about what you like to do, and maybe your hobbies, and she just tries to get to know you for the first couple of days.
It seems very normal. She asks more specifically about your job, making sure that you have basic income coming in. Because if you don't have a job or you don't have an income, then you're not actually funding what she wants. But that's not the alarming part because it's normal for any person to ask about a person's career if you're trying to date them. It's fair to make sure the person you're dating has a job.
What then becomes interesting is she then asks if you're dating anyone else or plays a joke about how you're probably talking to a lot of girls, because she wants to know what your dating journey has been like. Because if you're not actively dating multiple people, she knows that you're craving companionship. She knows that you may not be having the greatest dating experience, maybe you feel really, really lucky to even get one match. Then, that's a perfect target for her. Because now she knows that there's more meaning here. You really want that companion. You really want a date or a match.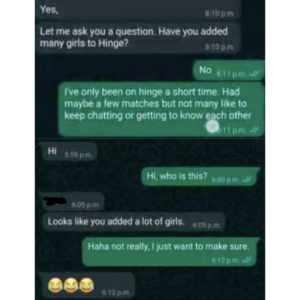 Biggest obvious signs
It gets a little tricky because then she's asking if you're talking to anybody else because she wants you to only date her. Now, this is one of the biggest signs, is how she cures your loneliness.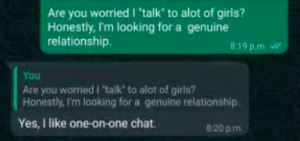 Once again, she's trying to cure your loneliness, getting you attached to her. She does this through excessive affection, and a lot of texting. She's making sure you feel like you have a companion that's asking about your day, and what's going on. You feel like someone's really there for you and cares for you. The number one kicker is she uses nicknames. She asks you to use nicknames for her. Because behind the scenes, it makes it easier for her to keep track of everybody so she doesn't have to call you by, well, your real name.

So, then you're feeling really cared for and appreciated and loved. Then, all of a sudden, she brings up cryptocurrency as one of her hobbies and how she's built a lot of wealth on it, how it really works, and how you need wealth to financially support yourself, to have beautiful experiences. She tries to convince you that wealth is really important and finances is. If you tell her that you're not familiar with crypto, that you don't know anything about the market, – that's great for her because now, she can teach you about the market.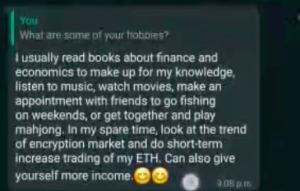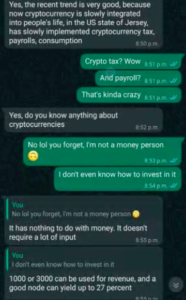 Ordering you to take action
Then, she starts convincing you and almost making see you sometimes feel odd that you're not investing because that's what everybody is doing.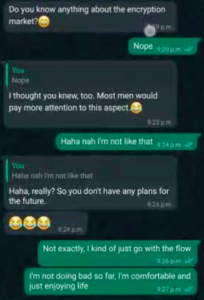 Then, she starts, not asking, but telling you, "Hey, you should join us, you should do this, it's great for you. I want you to have great wealth for yourself. So, let me help you.

Download this platform. Now, put this and do this." She all of a sudden starts making these commands, which then you may question but at this point, you feel like she's just trying to help, which is what makes it really tricky.

Then, you follow her lead (causes you to wonder "why not? It's something she loves." Here's the thing, when you actually complete one investment and she asks you how much you can invest, normally she will try to get you to invest more or push you to your limit.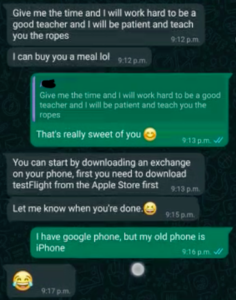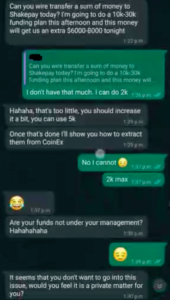 Once you do that though, this is where it gets very scary, because she then shows you more affection. Every time you do something she wants, she then gives you validates you, gives affection and talks about how this is helping your relationship.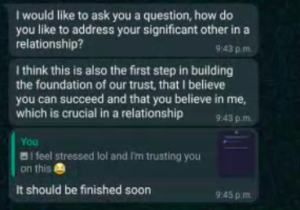 And then she finally shares a bit about herself so you can feel hooked on this relationship. You're thinking, yes, this is how you build trust and communication. That's how she plays this dance with you.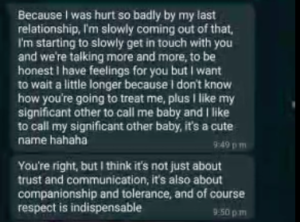 She brings back the same topic
And then the conversation starts getting blurred. You realize you don't really get to know each other much anymore, it's more about your investments. She brings it back to investments. When you do try to talk about something else or talk about her, she brings it back to help you make more income and when you can make more income. See below my client even made a point to let her know he wants to get to know her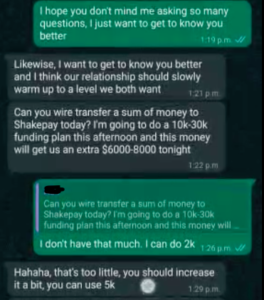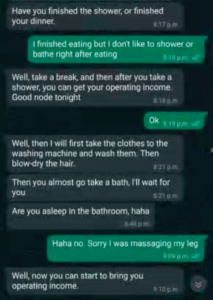 She keeps you hooked also by playing around with the idea that she will meet you but never actually sets a date. It's very vague.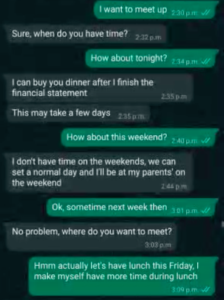 Here's the tricky part, when she refuses to do a video date– because quite honestly, these girls will get on a phone call with you, that's not hard, they will allow you to hear their voice but they are not going a video call with you. If you ask for the video call, these ladies get super defensive and they all of a sudden talk about how they're not there in a relationship yet. Isn't that strange? Isn't it strange to set dates with this person but when you ask for a video call they're not willing to?
But they obviously have time to be on a phone call with you and recognize this, the phone calls are maybe a little bit getting to know you but then they start talking about investing. Those there all signs, guys. It's that dance, right?
She is trying to gaslight you
And then here's the main kicker. When you finally feel like something is wrong and you ask her questions about the little legitimacy of this crypto platform, start questioning her on more details because you've done your research, she starts then gaslighting you, and then she threatens leaving the relationship.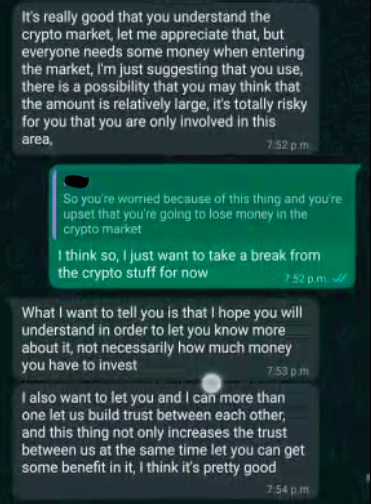 She then talks about how you're not trusting her. "How dare you question my knowledge of crypto?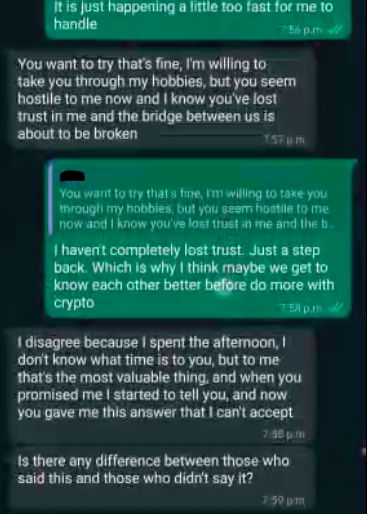 You know what? You might as well leave this relationship." That's how she gets you because she knows you really want a relationship, you want that companionship.

So, then you want to stay and do his whole dance. Even when I suggested to the client to leave, you can see through his texts why he wants to stay because it's the closest he has a relationship and that's what's scary.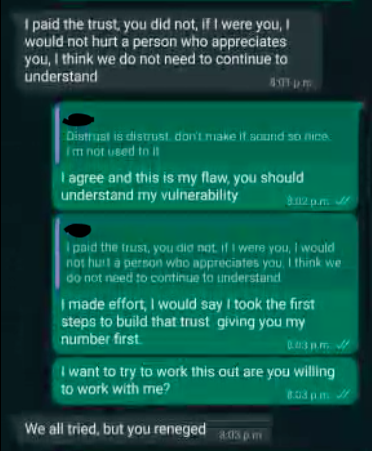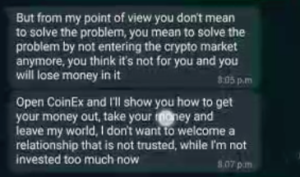 Remember these signs
Those are the signs. The biggest sign guys is, that all of a sudden, she wants to just be with you and only you, and shows all this affection towards you without meeting you. Number two, she shows this really high interest in crypto, not just talking about it for herself but pressuring you to do it. Who does that? Even when I've been in a relationship with someone for a year, they're not pressuring me all the time to invest. It's a little skeptical there.
Then, number three, it's that dance of showing affection when you do something for her, her breadcrumbing you to say that she'll go on a date with you but then not. And then lastly, if you try to call her out, she will threaten to leave or she says it's your fault, you're the one not trusting, what did you ever do? So, be careful guys. Those are the main signs.
Take the necessary steps if you feel like you are being scammed
I know this is a lengthy blog. I know there are a lot of screenshots to look through. But I really hope you take your time. If you recognize you're a victim, stop, block, and report on those dating apps whenever you can, and I will talk about how to prevent all of this in another blog. But for now, just see the signs and please, don't let this happen to you. You don't deserve this. This is awful. I wish I can take all these ladies off of these platforms, but I hope it doesn't jade you too much please recognize that most people on online dating platforms are real, but you have to know the strategies for how you can prevent this from happening to you, and I hope this is a step in helping you through it.
Thank you so much for reading this lengthy blog. Read the link too on how these crypto scams happen so you're completely knowledgeable. Stay safe out there, guys. Don't let these women do this to you and I hope it helps. Have a good one.
The work you put into yourself to attract ladies shouldn't be focused on attracting them it's about bettering yourself. Find out in the link below what makes you attractive in the eyes of a woman. Learn more about it here!