Compliments and validation are essential to dating, it's letting the lady know you're interested in them. It moves her internal dialogue from "you're a nice person" to "aw, I'm feeling butterflies." But, if you're not getting that kind of response, the problem is…are you giving the right kind of compliments? Because if a compliment backfires, it does the last thing you want to happen — she pulls back. Here's how to compliment women!
Subscribe to my channel to get new dating advice every week.
"She knows I'm interested! I flirted, I gave her compliments, but she pulled away….what could I have done wrong?"
Why your compliments aren't working
If she is not receiving your compliments well, she's either:
Simply not interested : (
Not feeling good about those compliments (and when women don't feel comfortable, they will pull away)
Women are emotional creatures and go off of their gut, their feelings. If she's not receiving your compliments well, it's because your compliment, execution, or delivery is not resonating with her. She may be confused on what you're actually saying, why, or where that came from.
This ebook has the ultimate plan for every good-intentioned man to find his true love, no matter the previous failures
Download your free ebook here: 5-steps to Quality Dates
Cherish this eBook: it contains more than a decade of proven wisdom from my vast experience with single men as a couples therapist, matchmaker, coach and previous eHarmony lead.
But, that's how she feels, and you can't make her feel anything. Knowing it's one of those reasons above, you can only change what you can control. The first part to change is how you compliment women.
When I asked my clients to clarify how they compliment women, it all falls under some frame of:
"You're cute"

"You are very pretty"

"You look very nice today"
Do you notice a pattern?
They're all about her appearance.
You may now be asking "don't girls like those compliments?! I'm confused" Many say they don't, but it's about the how.
Hint: if you really want to comment on her appearance, complimenting her hair is the only way to go. That can't go wrong, we women put a lot of effort into our hair and love it when anyone notices
Women do appreciate appearance-based compliment….but, not at first. Not when women don't know you.
And that's what we're talking about — giving compliments during a first date, meeting, approach, etc.
This is when you're trying to simply get to know each other, show interest, and keep her intrigued
If the compliment is given, it's best when given near the end of the first date when sparks are flying
Why? That is because you've already developed rapport — comfort, trust, and chemistry.
She would receive the compliment well after getting to know her a bit compared to knowing nothing at all. When it's at the beginning, she knows you're only seeing a pretty face. Even if you messaged each other for weeks before meeting, women need the space to warm up to you and get comfortable with you.
Even AFTER getting to know her, this does not mean to bombard with compliments. You don't want her to feel overwhelmed. And quite honestly, sending so many compliments right after another when it's uncalled for and sort of random — feels a bit odd and partially creepy!
Don't do what he did below (obviously, he's in the white bubble)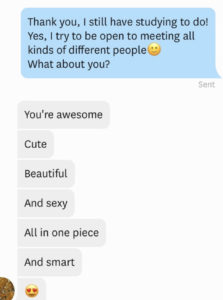 At least he said "smart"?
But, even so, I can tell you this….he did not get a second date.
Why? From this woman's mouth, she said to me
"this feels really uncomfortable….that's all he got from our meet?"
Now that you know what NOT to do, let's talk about what you DO compliment
The 3 best compliments are all about who she, internally, is.
Each complement has their own purpose
The three best compliments have their own purpose. They have the purpose of igniting a pleasant feeling for her, you want to let her feel emotions (I repeat…we're women! We feel! :D). That is how you stand out to her. These three different compliments will let her feel…
Valued
Proud and appreciated
Butterflies and drawn to you
What to compliment women
When you compliment women, there's more than just appearance. So if it's not her appearance, then what? Women value compliments about her character, personality, and qualities. You want to compliment things she may already know about her (it will validate that for her) or qualities she doesn't know about herself.
This is all found, of course, if you truly listen to what she is saying. When she is talking about her interest, past, journey, and stories — ask yourself "what is this saying about her?"
And once you see the characteristic about herself (for example, you see she cares about her family or works hard toward her goals), you compliment that trait. It can be in the form of validation, reflection, or stating attraction.
Next, comes the big question of how
How do you express these compliments?
Pick what the quality you want to highlight and start it off with…
"I appreciate…"

Best used for conversation about values and beliefs

"I admire that…"

Best used for qualities you may strive for or do not have

"I'm attracted to"

Best used on qualities you're attracted to
Being direct and starting with those simple words will make it clear to the lady "I see you this way." You could be talking about her work ethic, her positive attitude, her adventurous spirit, her goofy personality, her love and care for her family, and more…
You can give these compliments in person or over text. Check out this text message of a compliment that goes into a question about her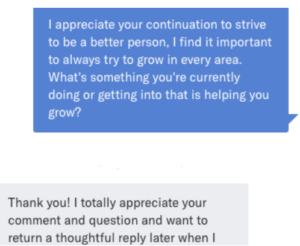 When to compliment women
As mentioned above, it's not recommended to throw out a series of compliments. It's, also, not recommended to give compliments randomly, out of the blue, out of context.
If she is talking about her day, then you all of a sudden blurt out "you're sooo pretty"
That doesn't show you are listening so much, think so? 🙂
Give the compliment when the situation, the present moment, calls for it.
When she is talking about her day, you mention how impressive it is she works so hard.
When she is ordering from the waiter, you mention that you appreciate how you speak to them so kindly with always a 'thank you'
You can give a random compliment when you both are quiet, enjoying a moment of silence, looking off into the distance and you briefly tap her, "I just wanted to say, I really appreciate I'm here with you…with someone who is so present and takes in every moment"
When it truly feels right for the both of you, give the compliment.
Make sure to listen when you compliment women
It's important to only stay away from abruptly inserting a compliment in the middle of a conversation just because that's all you're focused on and you're not listening.
And, there you have it, that's how you compliment women! The what, how, and when on giving compliments.
Remember to add your own playfulness and personality to this. Remember this is just a structure, but in no way do I want you to robotically repeat the words I'm citing. Please don't. That wouldn't be so good, not many women want robots haha…
And also, if a compliment does not go well, please know it's not about you. It's mostly about her, there are plenty of women who have to work through their own healing because they reject all compliments. It's not your fault.
Do as stated above and you're trying your best!
I hope that helped you feel more confident in making the right (and safe) kind of compliment!
Let me know how it goes 🙂
Keeping the conversation going is a skill that a few have mastered. If you want to learn the art of keeping the conversation going and filled with excitement click the button below.
Learn more here!