Today I'm answering the question, "Should I swipe left on her? Or should I swipe right?" It's for those lukewarm moments where you're not too excited but the profile is not awful either, so you don't know if you should like her or not. But you don't also know if you're being too picky or you're not being picky enough. Then, you wonder what if you like someone that you're not too excited about, and then you start talking to her already feeling kind of low excitement? Is that wrong of you? Are you lying? Are you playing her? Hopefully, this blog will help in those indecisive, confusing moments.
The profile is not the whole story
The first thing I want to talk about is the profile itself. Let me remind you that you cannot see someone's full story and personality off of a profile. I'm pretty sure you're aware that writing and creating a profile is not the easiest thing to do. I'm pretty sure you're also aware that it doesn't completely capture everything about you.
It's important to acknowledge, if you are jumping to conclusions way too fast off of someone's profile or if they're missing something, just make sure you see it for what it is and try to see if overall, she could be someone you would want to get to know. All I'm trying to say is to remember to not jump to conclusions so fast and to recognize that, people have different intents and goals when it comes to dating, and the only person that will know her goal is her. Don't jump to conclusions thinking and concluding her intent/goal on online dating based on her profile. You wouldn't want someone else to do that to you.
Know your goal
The second thing I want to talk about is, know your goal in online dating. Is it to just go out on a date because you haven't had experience? If you haven't had much experience, you just want to get out there, then yes, swipe right on almost everybody. Give yourself that chance and that opportunity to get out there, learn and grow, flirt, have conversations. Why limit yourself? This is how you learn.
This ebook has the ultimate plan for every good-intentioned man to find his true love, no matter the previous failures
Download your free ebook here: 5-steps to Quality Dates
Cherish this eBook: it contains more than a decade of proven wisdom from my vast experience with single men as a couples therapist, matchmaker, coach and previous eHarmony lead.
Be selective, not picky
However, if you've done your fair share of dating and you do want a long-term relationship, so you're looking for a quality woman, that leads to my third point. You don't want to be picky, but you want to be selective. What do I mean by that? Well, when you come to those moments, when you're being a little indecisive about a profile, there are two layers to consider here.
The first one is on the physical attraction. Most men, of course, are looks focused, that attraction really grows from you when you see someone's photo, but most men will only look at that initial reaction from a photo to make their decision.
However, you guys, remember that it's a photo. You don't actually see her in real life, some people actually look better in person than they do in a photo. What I do suggest is to not be so picky where it has to have that really skyrocketing attraction level off of a photo. You don't want to base it on that because remember, someone could be really pretty, but then can turn very ugly because of their personality.
Do not jump to conclusions
When you look at someone's photo, if you have the reaction where you're kind of, "That's not for me," or, "That's quite unattractive," or, "That is totally not my type at all. I can't even imagine being on a date with her," yes, swipe left, don't do that to yourself 🙂 If you're looking at her, and she's not completely your type, or she's not the prettiest, but you can see that she's cute, you could see that she has nice eyes, has a nice smile, dresses nice, is fit and healthy. Why not? Ask yourself this, if she has everything else you're looking for, personality-wise, values-wise, is her face really going to stop you from doing that?
Once again, you haven't even met her in person yet. That's where you can really tell the attraction is there, and that's what really matters and a photo. What I would suggest to you is to look at the photo. If you can see that she's pretty cute and she's not bad, then, I would say swipe right, if it's based on just looks.
The second layer of this is obviously the profile. It's very easy for men to look at a woman's profile that doesn't have much and assume that she's not serious about dating,
and assume that she's not looking for the same things, which is just not true. You don't know that. You don't know what her goals are. Quite honestly, there are a lot of women who have very short profiles, it's because they were already hesitant to joining online dating, but they know they want to date, they know they want to find their person, they're just a little hesitant. They're not sure how it's going to go, so they don't want to put all their efforts in quite yet. Or, they honestly are busy.
Swipe left or right?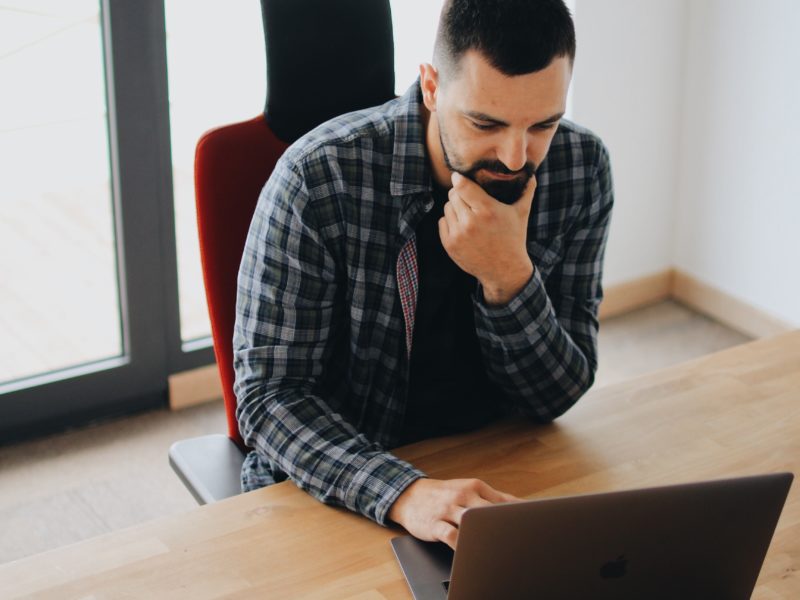 I see a lot of independent women have a lot of things going on. Working on her profile for 30 minutes is just not something that she's prioritizing right now, and that's okay. If she only has emojis on her profile, literally nothing to work of, then I would say swipe left. On the other hand, if she has something where you can see that there's possibly something to connect on, then swipe right. If there's something that the profile is lacking, you feel like you're not finding what you're looking for on there, why does it hurt to have that conversation with her and ask her if she has that value or that quality you're looking for? Why does that hurt? That's my biggest question. If you swiped right on somebody, and you do connect, it doesn't hurt to expand on the information.
Getting matches?
I do understand if you get a lot of matches, so you know you're highly desired and you get too overwhelmed, that's when it's okay to be pickier. If you get matches here and there a couple of times a week. Then it doesn't hurt to swipe right on somebody that you're just iffy on. There is a potential for that attraction to grow and for her to be someone amazing that you didn't expect.
When it comes to the concept of wondering if you're "playing someone", or if it feels wrong to someone that you're iffy about, it's not, because, at the end of the day, this is what everyone is doing with dating. They're just connecting with people and seeing if that attraction is there. Even though in the beginning, the attraction wasn't there as much, that's okay. That's what dating is. It's just seeing who connects with you best, and if that attraction can grow. At any point, that attraction can die. That's fine, and you let them know that and you move on.
I hope that helps with your decisions when you want to swipe right or left or not, but once again, just remember, stay open-minded, but don't go out of your own values and what you want, but just making sure you're not also losing potential great people that could be a really great match for you. Thank you so much for reading this and good luck swiping!
Finding a quality woman that suits your lifestyle and dating preferences is not a walk in the park for your long-lasting happiness. If you wonder where to find women online and offline, Good gentleman got your back! Click here to find out!