I'm going to share with you the "best 3 prompts to use on your Hinge profile to get the best results." Hinge has become one of the most popular dating apps. It is on my top three dating app recommendations when I help my clients build the best profile for them so that they can start talking to quality ladies, get good results. Obviously, we know that it's not just about the dating app itself. It's about what you write on these profiles. That's what truly gives you the matches and gets the conversations started.
Subscribed to my channel to get new dating advice weekly.
I've had a lot of discussions about how to write profiles, but in this case, Hinge is specific, because it has a lot of prompts. There are a lot of them. The biggest mistake people make are they just randomly go through the prompts and choose whatever they feel is easy to answer or quite honestly, they're just tired of swiping through the prompts and they'll just pick a random line. The issue with that is, unfortunately, it doesn't make a very interesting or enticing profile.
What do you need to pay attention to
Many times, if people don't actually pay attention to it, they just answer the prompts like, "What do you do on a–?" "My typical Sunday is–" and then they'll just put go to the gym and eat. What does that actually tell me? Remember, you want to make sure that when women are reading your profile, they're understanding at least a bit of who you are, and you hope it catches their attention so that you can get the swipe right. After looking at so many profile writings,
This ebook has the ultimate plan for every good-intentioned man to find his true love, no matter the previous failures
Download your free ebook here: 5-steps to Quality Dates
Cherish this eBook: it contains more than a decade of proven wisdom from my vast experience with single men as a couples therapist, matchmaker, coach and previous eHarmony lead.
After I've helped many clients gain more matches, I've recognized that there are three prompts that allow you to really showcase who you are and well, get the women curious, so that they want to talk to you. What are those three prompts? I'm going to explain to you why they're great prompts to use.
My Greatest Strength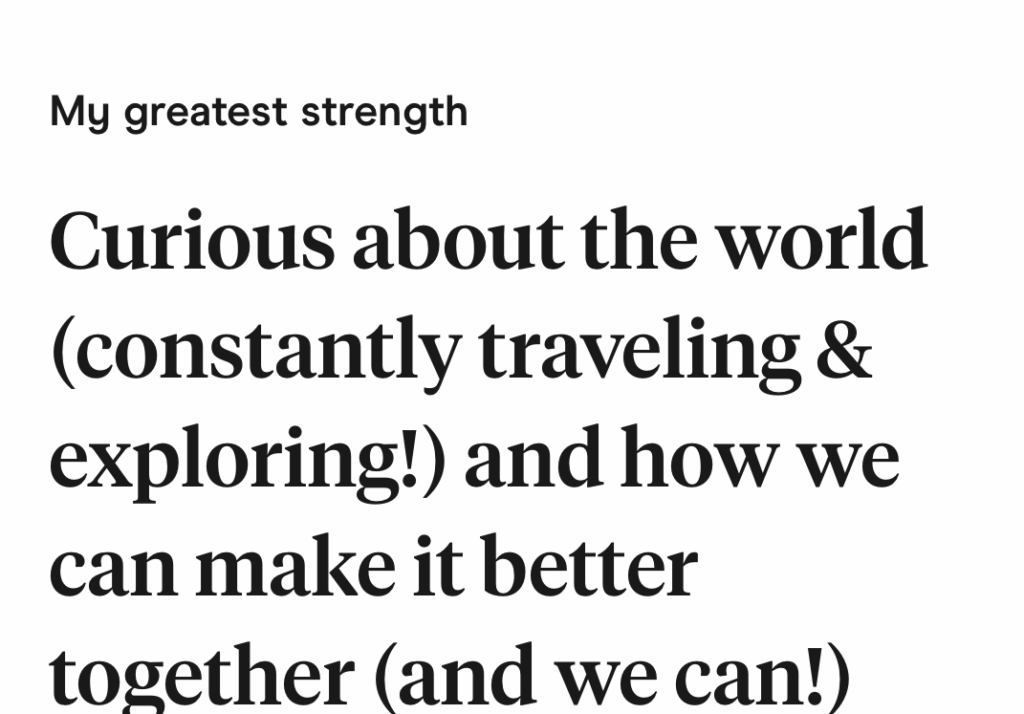 The first one is My Greatest Strength. That is such a good opener, because that allows you to talk about a value of yours. Women want to see that you have some value in your life. What do you care about? Not only what do you care about, but what is a strength of yours that you're proud of, because why else would you write that? It opens up away, so you can write about maybe your ambition, maybe your resilience, maybe it's your family values. or your greatest strength is being able to take care of people.
It just opens it up so that she can understand a little bit more about who you are on the inside of the core. Women really care about that. Because I'll tell you this, a lot of guys do not talk about their values in their profile. They just talk about their interests. They talk about how they like to go hiking and everybody likes to go hiking. So, this helps you stand out a little bit more by writing about your string.
Together, We Could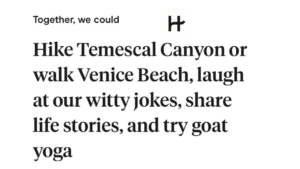 The second prompt that's really great is the prompt that says "Together, We Could." This prompt allows her to imagine what it would be like to either be in a relationship with you or date you. Women, we're emotional creatures. So, when you allow us to visualize what it would be like to go on a date with you, once again, it draws curiosity and allows her to think, "Wow, I want to go on a date with you."
You could say, "We could walk along the beach, travel the world together." It showcases your interests, but in a way where you're allowing her to join you on this journey. Which quite honestly is really pleasant to imagine. You're taking her on this journey with you, and that stands out, and that makes her curious because she wants to join you on this journey. All right, so, that's the second prompt to use.
Believe It or Not, I…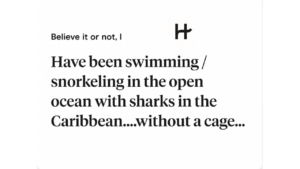 The last prompt number three is, Believe It or Not, I… Now, this allows humor to come out, because if you have a really interesting funny story in the past, that usually is a very easy way to make somebody laugh because you had such a crazy, let's say, adventure. It allows humor to appear and every woman, I'm pretty sure you too, would love to laugh when you read a profile. But also, once again, it allows curiosity. When you tell a story, if it's a very interesting fact, don't tell the whole story. Allow her to see what happens.
If you said, "Believe it or not, I traveled to a foreign country in handcuffs…" You're not telling why that happened but you're allowing her to wonder and guess. And that prompt actually, I've seen many women respond to you because they want to know. They want to know how that happened, why it happened, or what motivated you to do that.
Allow them to be curious
So, I will say this prompt entices a woman to respond to you and ask you questions more if, of course, you have an interesting story. And I hope you do. Go, look in your past, and see what could be interesting for these ladies to wonder about.
But all in all, if you haven't noticed in all those three prompts, what did I keep repeating? These prompts allow women to be curious. That's how conversations start. If you just talk about, "My favorite food is sushi, how's that, why is it? Is that making me curious? No, that's great to know that. Okay. It doesn't go further than that. We want these women to be curious about you. That's how conversations really start.
With all of those prompts, they allow these women to either be curious about who you are, your strengths. They can be curious about what it's like to be on these dates with you. They could be curious about your story, and your adventure, or your funny story. All of those are all about curiosity. Do that and you're golden. Hope that helps you guys out on your Hinge dating app. Make the change and let me know how did it go.
Hinge is a popular dating app for meeting people who share the same interests and values. If your Hinge prompts aren't getting you matches, get direct feedback on your Hinge profile through my personal video feedback below. Click here