Max, a 29-year-old entrepreneur from Minnesota, put his dating life on the back burner for the past years as he focused on building up his career and growing his business. He just then noticed that every person he went on a date with was from his social circle and he struggled to meet new people due to moving from one city to another. He decided to seek my guidance because he is hesitant about dating apps and realizes that he didn't have the best process for it. Below is the full revised story of how he was able to get a quality date without being exhausted.
Getting to know Max
Ruby: All right, guys. Welcome to another one of my videos. We have another guest here today. His name is Max, and I'm so excited that he has decided to hop on with me and share his story. Hi, Max, how are you doing? Thank you for coming on today.
Max: I'm doing good. Thanks for having me.
Ruby: Awesome. All right. Let's go ahead and just hop right in. Can you tell everyone a little bit about you, who you are, a quick summary of where you started and where you are now?
Max: Yeah, my name is Max Clifford. I'm 29 years old. I'm originally from Minnesota, but I currently live in San Diego, and I previously moved from Atlanta, Georgia. I work in finance, and that consumes a lot of my life, but that's where I am right now as far as life goes.
How he has been before seeking my guidance
Ruby: All right. Can you also now give a quick summary of where you started in regard to your dating experience prior to working with me, and where you are now?
Max: Yeah, my dating life has been on the backburner for the past few years as I've grown my business and expanded my career. What I noticed moving from a city in which I had a real core group of friends, my social circle got a little bit limited as far as dating goes, and everybody that I dated previously long term had come from my social circle. One of the things that I struggled with was from moving one city to the next, how do you meet new people? How do you expand those different things? Over the past few months, I've really put forth a lot of energy, noticed a huge change, but my dating experience as a whole had been vibrant at times, but also over the past few years very limited just from pure work.
Ruby: Right. What got you making the decision of, "Okay, I'm going to seek Ruby's help"?
The things he struggles with the most
Max: I think it was just the struggle that I had with dating apps. I had a lot of hesitation about dating apps, and in hindsight after going through the process with you. The big thing I realized is that I just didn't have the best process for it. I was unaware of a lot of things, and there was stuff that I needed to just improve on, and after I reframed that, I got a completely different response from individuals, and it was just so much more vibrant and enjoyable of a process. I think so much of the mental blockage for me was the fact that I just didn't know what I was doing for the initial attraction of getting somebody from an online date to go on– an online app with to go on a date with.
Reframing the process
Max: Once I reframed that process, things became so much easier. I never so much struggled on a date, which is just that initial where to find somebody in from not having the social circle and working a lot. I don't have that many interactions on a day-to-day basis with somebody that's my age that's potentially single.
Ruby: You mentioned mental blocks as well. Do you think it's that? What was the biggest obstacle you overcame in this process?
His biggest mental blocks
Max: I would say just stay more consistent which is not so much an obstacle. It's so easy for me somebody that really enjoys his job to put this stuff on the backburner. The biggest mental block I had was online dating apps don't work and there's not that person out there for me through that process. So, I just didn't do it. Then coupled with just my day-to-day activities of habits, I wasn't around individuals that I could potentially date. I was just in a situation in which I wasn't making any progress, I wasn't seeing any change. When I flipped that switch, and then also reframed my process as far as just updating my profile, which helped me with taking new pictures and doing stuff like that. It was a nine-day process and then just switched my mindset from that.
Ruby: Awesome. Switching on the mindsets as you said. Where are you now? How is online dating? You mentioned online dating and switching, how has that been, and where are you at in the present?
Abundant Mindset vs. Scarcity
Max: Things are a lot better now. I just have so much more confidence as far as the process of online dating and just how I hold myself in a relationship. Things are so much better than I feel it's more of an abundant mindset versus scarcity. I don't feel stressed out or frustrated towards dating or anything like that. It's a lot better of a situation.
Ruby: Awesome. A lot of people especially when they want to go online dating, want to find quality ladies. Have you noticed that you've been finding that now that you're in this and online, are you seeing more of the quality that you're wanting?
Identifying the attractive traits
Max: Well, I would say definitely as far as quality, but then also just attracting somebody that actually I'm looking for. One of the things that really helped me with Ruby was to identify my attractive traits, and also what I'm looking for someone, and one of the key things that really helped me switch that is you'd mentioned instead of saying that you like to travel– For instance, I went to Thailand recently saying that, "I went to Thailand, express why you like to travel."
Ruby: Yeah.
Max: Through that process, it's really helped not only attract people that are more quality but more people that I'm looking for that share the same values that I have in life. That was extremely, extremely helpful.
Ruby: That is awesome.
Max: The part that I struggle which I think a lot of people can resonate with is that online dating is time-consuming, and personally I just don't enjoy doing that stuff. I don't enjoy messaging all day. So, if you can start with a filtering process from the get-go as far as what you're looking for, who you are as a person, it just helps save time.
What he can advise to those who are afraid to seek guidance
Ruby: Awesome. Great. Now, switching gears just a little bit, many people are usually too scared to get help on such a vulnerable topic, it can be shameful. Can you speak to that, and what would you say to them?
Max: Yeah, the biggest thing is you're not alone as far as dating goes. I've harbored a lot of those frustrations in life and we live– we have the perception at least that everything's perfect from Instagram to Facebook that we have this idea of life but a lot of people struggle with this as well. The big thing is, like, you going to make these decisions on your own, are you going to make progress on your own? Do you need additional accountability or support? I was at a point in my life in which I was willing to put forth the effort.
His willingness to make things work out.
Max: I was willing to put forth the energy to make the difference, and I saw the results. So, it can be shameful. I know a lot of this stuff can be difficult, but really ask yourself like, "Is it worth staying in the state that you are right now versus putting yourself out there open up to an experience, and get a little bit uncomfortable?" Because most things you want in life are just outside of your comfort zone and for me, some of this stuff was uncomfortable, but it was definitely worth it.
Ruby: Usually, when people are coming into potentially working with me, they do always resist and wonder like, "It's going to be weird," because it is uncomfortable, it's really awkward for some people to even say to do this. How have you personally throughout this program when you reach a difficult spot overcome that?
What made him realized to make a change and try out different things
Max: I think for me the question is not as maybe as applicable just because of my job. I run a business, so things for me are constantly struggling and just trying to figure out a different way to be more open to that stuff. For the average person just out there that's potentially not in the same situation as myself, be open to the experience, be willing to put yourself out there, and not just keep doing the same day-to-day habits.
Because I think that was what I struggled with, is that realization I came to, is if I continued on the same path of just working all the time, not really putting forth the consistent effort to get the dating life that I wanted, was still going to have frustrations at the end of the day. It basically came to a point where I have to make a change on these different things or else, I'm not going to see any type of results.
Quotable quote
Ruby: The quote I always use is, "If you want something different, you have to do something you've never done." I forget where that quote is from.
Max: Yeah, it can definitely, I definitely resonate a lot with that quote, Ruby.
Ruby: Okay, so last question here. What qualities do you think one needs to be successful in this and be like you, making that progress? Some of it you already alluded to, but if you have anything else to add, that'd be awesome too.
Takeaways: Staying consistent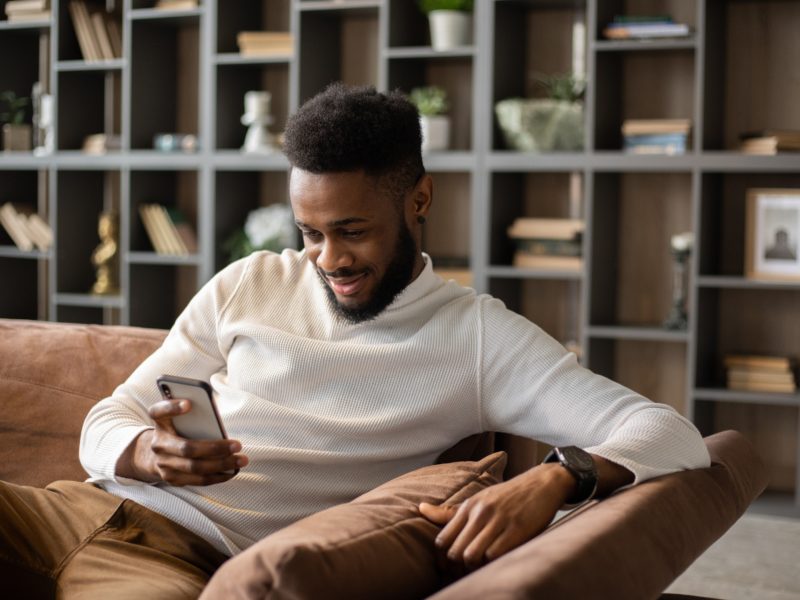 Max: I think first and foremost, you helped me so much with this process to get me where I am today. I'm extremely thankful for that. I was fortunate to go through the process you've taken a lot of other individuals from that I really learned a lot from.
Some of the key takeaways for me was first and foremost, stay consistent. Being consistent with these different things that we want to accomplish as far as dating goes was number one. Within that consistency, it helped me overcome a lot of my mental blocks, such as dating apps don't work and things along those lines. Just taking that consistent action, and having you hold me accountable was extremely helpful.
Big aspect: Reframing and setting up online dating profile
Max: The other big aspect of that was just how I show up and just reframe in relationships and how I have my online profile set up. Just as my example before with going to Thailand, just expressing my attractive traits and why I view those and through that process, I've attracted people that have very similar values to me, and I'm actually seeing somebody right now, it's been a really cool experience. It's been a great experience.
Ruby: Yay. You're saying you're seeing someone right now, and you're having a great time.
Max: Yeah.
Ruby: It seems to be close to the quality you're looking for.
Max: Really enjoyable. I think so much for the last handful of years. I've just been working and putting dating on the back burner. Now I'm not as busy it's just been awesome to feel those feelings again and experience these different things in life that I just haven't done recently.
Ruby: Yay, that's exciting. Okay. Lastly, usually, the guys that are watching this are the ones that are on the edge of potentially working with me or doing one of my programs. Speaking directly to them, what would you say to them?
Max: I encourage you to work with Ruby
Max: Ask yourself a question. Do you have confidence in your current decision that you're making as far as you're dating? Are you confident in your current decisions that you're going to get the results that you want? If you're not, you potentially might need some support. For me, the support came in two different ways.
First is being more aware of the stuff that I didn't realize as far as dating goes. Then just the consistency and accountability. Those are the two things that I really needed that might resonate with you, and if it does. I'd encourage you to use Ruby's services because she's been phenomenal.
Ruby: Yay, thank you so much. That was so nice. Thank you for the kind words. I really appreciate it. It has been amazing working with you. I just want everyone to know also the thing that Max really has. I think, has really skyrocketed to your progress. That willingness to push yourself and doing something different and committing to that. Because this happens pretty quick, and you're already busy yourself. At the end of the day. You'll recognize why are you committed to it even though it got difficult at times. You wanted to make this happen. It takes two. I can only do so much, but Max played his part too. Which is why he's in the space that he's at right now.
Thank you so much for joining us, and good luck with everything else. Thank you, guys, for watching and you'll see me soon again. Bye, guys.
Know that exerting all your effort to stay on top of your dating game is a must, even if it means investing an ample amount of money. Because being guided by a professional dating coach can help you to figure things out from scratch until you have reached your goal and become successful. So if you happen to come across this story and if you want your dating journey to become successful, feel free to reach out. I am glad to help!