Some of you may get lost and don't know how to respond if she tells you "I'm not ready for a relationship" or "I'm not mentally ready to date." So allow me to share with you the text you can send when a woman tells you that she's just not in the right space, it's not the right time, and it's not the right mindset to be dating.
It's an unfortunate text to get, especially if you've had one or two dates with her, and you really liked her, and you were excited to meet again, and you even planned that. But then she comes back with saying that she's just not feeling it, and it's her life, it's not that she's not feeling chemistry or connection with you. It's what she's going through.
So, then you wonder, should you text anything back? If you do, is there a text you can send? That potentially gives you another chance. Well, that's what I'll be sharing with you today. Before I get into that, make sure you subscribe to my channel. I'm Ruby Love, the dating coach for good intentioned gentlemen.

Subscribed to my channel to get new dating advice weekly.
This ebook has the ultimate plan for every good-intentioned man to find his true love, no matter the previous failures
Download your free ebook here: 5-steps to Quality Dates
Cherish this eBook: it contains more than a decade of proven wisdom from my vast experience with single men as a couples therapist, matchmaker, coach and previous eHarmony lead.
Recieving the "I'm not ready" text
In regards to the text to you end up receiving, this sometimes comes as no surprise for some guys, because some ladies will talk about how they're just not feeling well, or work has been crazy, life is just absolutely insane for them. But here's the thing, normally, it's more disappointing when you've had one or two dates with this girl and you really like her. You don't see her talking about her internal or life struggles, she expresses she's having a great time with her and she actually planned the next date with you. You guys have that setup!
But then as you're texting normally, you ask about her day, you are starting to see things are happening in her life. And you just hope that she'll be okay, she'll be well, and that you can continue to date her. But life happens, and sometimes they'll tell you, "I just got really sick, so honestly, I just can't focus on dating anymore. I'm not in the right mindset to date. Work has been crazy, and I honestly just can't fit another person in my life." Similar to these texts below: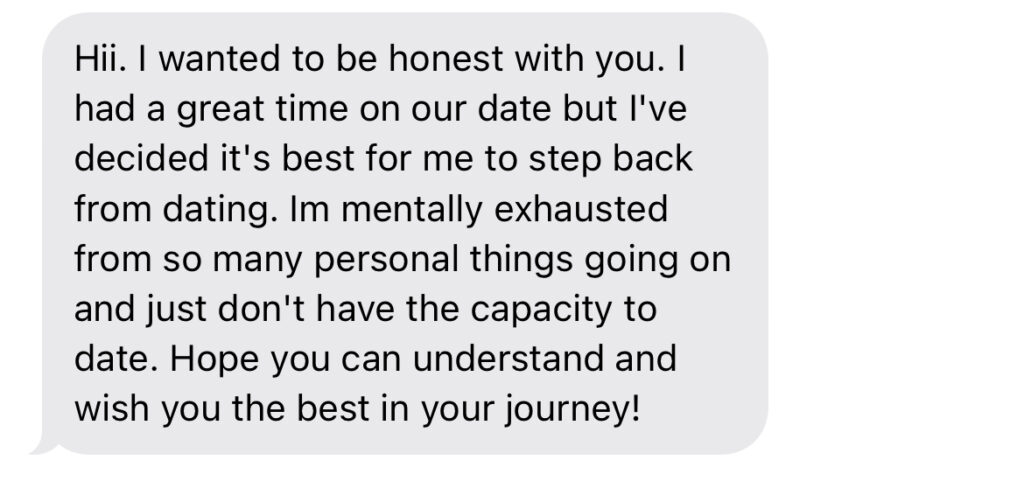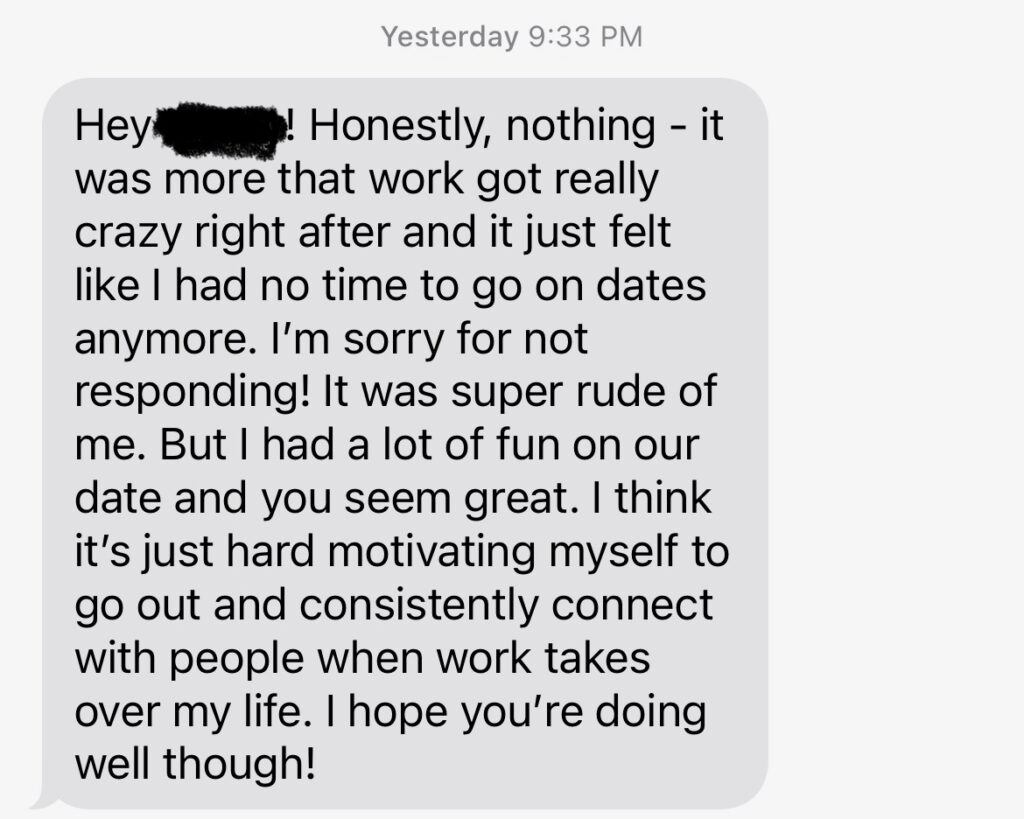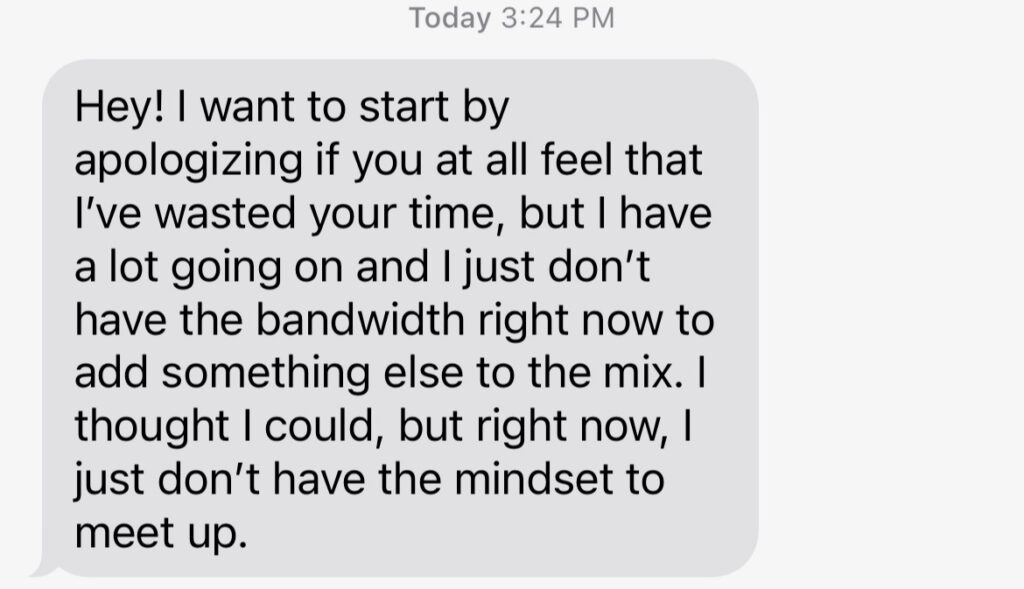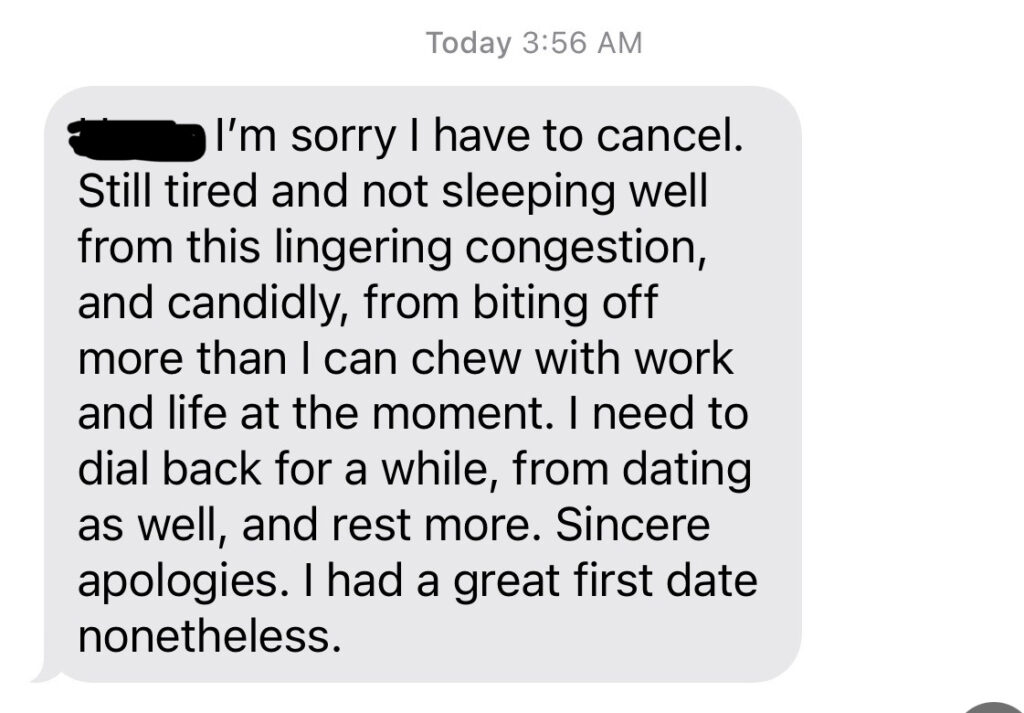 Check on your assumptions
When it comes to how to respond to when a woman says she's not ready for a relationship, the first thing you want to manage is your assumptions and thoughts on her. The first thing I want to tell you guys is please, please do not get used to being in a place where you think these women are lying. Even if it is an excuse for one or two women, we can't say that every single woman is a liar.
That's just not fair, especially if she's actually telling the truth. And we really hope, that she gets better and her life turns around for her. So, please do not get into that negative mindset because it's just not helpful for you.
It's just not helpful for you, to start thinking that way because your mindset will just continue to be negative and slip in that way and have a negative view of women when quite honestly we don't know if that's the truth or not. I will say most guys wonder if they should even text back or if they should just let that go, or if they should just send a short text saying, "Okay, well, good luck."
The Text to Send
Well, Yes! There is a text you can send that also opens the door for her potentially to come back, especially if you like her. There is a text you can send, and I do suggest sending one, because she's sharing something personal with you, and she's sharing a hardship with you already, she's letting you inside of that kind of world for her. So, here is the structure of the text to send to potentially give you a chance in the future and also show support.
When you receive this kind of text, you want to respond with three points to this text. So here's How to respond to when she says She's not ready for a relationship
Tell her you understand & share your feelings
Number one, show your understanding and your care. Just saying anything about, "I'm so sorry, you're going through that, I totally get it. Gosh, that seems real hard, I hope everything gets better for you." Show that you care. That's really important – show that you listened!
Number two, be honest, that you're bummed out. You can say, "But honestly, I'm kind of sad because I really enjoyed our connection and I was excited to get to know you more. I admit I am disappointed because I was really looking forward to seeing you next week. But once again, I totally get it and I wish you the best."

Welcome her to Come back
Lastly, you want to wrap it up by saying, "If things get better for you, and you're willing to get to know me more, if you're willing to give us another shot, I'm here, text me." Invite her. Most guys forget to do that. But I've actually seen it when my clients have done that, and, yeah, months down the road, they're still single and the person actually texts them back because it's true, life happened but…she's now feeling better 🙂
You want to leave that invitation, that kind of offer that welcomes to her that you're there. You don't want to disrupt her healing process now, so you won't text her anymore. But if she still wants to get to know you and she's feeling better, you're opening up your text messages . You're basically saying, "I welcome you to text me, if you're feeling up for it, when you feel up for it, and if you're still single," if you want to state that too. That's it.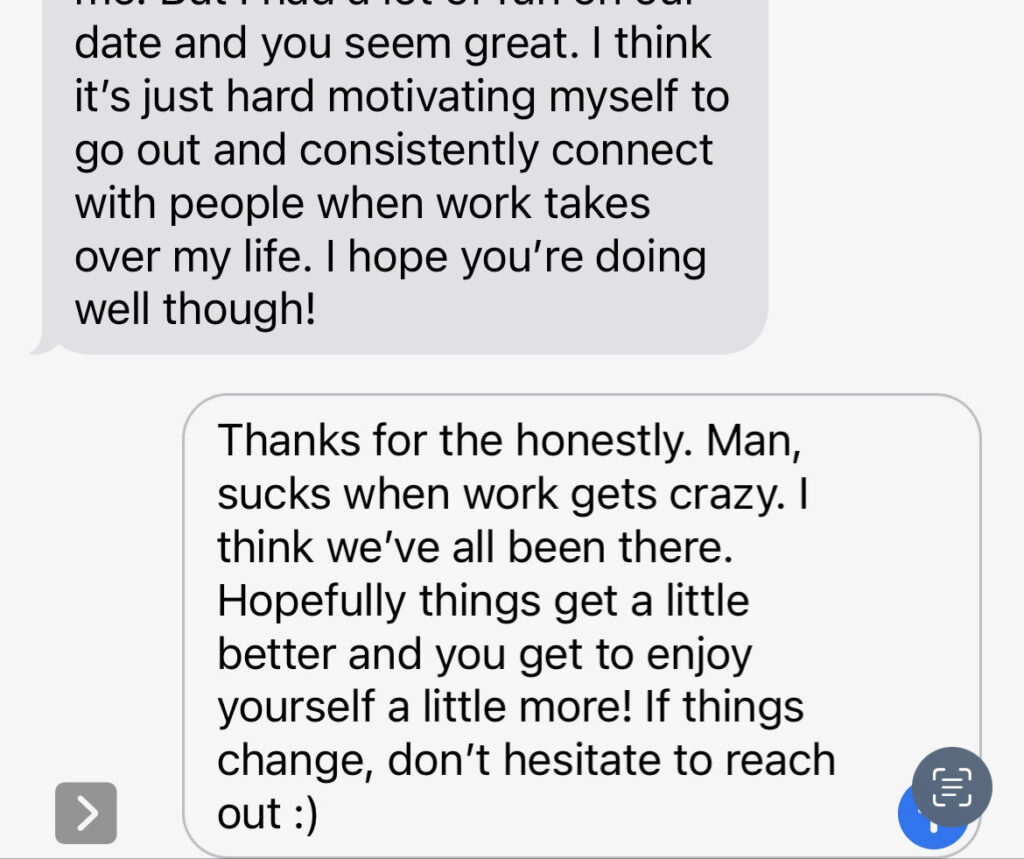 Three parts of the text
Remember, when it comes to how to respond when she tells you she's not ready for a relationship, keep in mind the three parts above. First, It's about understanding/caring, then being honest about how it was a missed opportunity, you liked getting to know her. And number three, invite her to come back in the future if she's open to it.
Maybe she'll come back, and if not, you're going to move on anyway. I hope that helps if this happens to you. And if you have trouble connecting or just texting, if you feel like this happens to you more than once like five, six, times. I highly suggest booking a free call with me.
Let's figure out what's really happening there. Because if it happens, most of the time, there is something else going on and I'm going to take a look and see if I can help.
After she drops the bomb, most men think in the most negative and dark way. If this happens to you, it's important to focus on bettering your mindset, then you can succeed in dating. To develop healthy mindset, click below
develop a healthy dating mindset!