What to do when you're not sure how she's feeling during a date? It's for those moments when things seem, okay, but kind of lukewarm, you're not too sure if she's really interested, but you're also not sure if she's not interested because she's not showing that either. What do you do? You obviously don't want to keep her there, if she's not interested. You obviously don't want to waste time, if she isn't.
Subscribe to my channel to get new dating advice every week.
You want to figure that out. But I'm pretty sure you also know, it might be too weird to ask her directly. "How do you feel about me?" Not a good question as usual on the first or second date, because many times people can't really figure that out. You don't want to ask directly, "How are you feeling about me?" There is a way to understand or to see what her feelings or thoughts are without asking something like that. What do you do? What can you ask?
This ebook has the ultimate plan for every good-intentioned man to find his true love, no matter the previous failures
Download your free ebook here: 5-steps to Quality Dates
Cherish this eBook: it contains more than a decade of proven wisdom from my vast experience with single men as a couples therapist, matchmaker, coach and previous eHarmony lead.
Ask Directly About the Date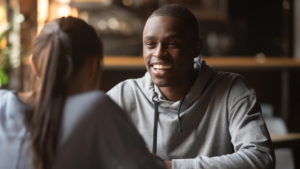 Number one… The first thing you can do is to ask a direct question, about the date itself and how she's feeling. If she's not as engaged in the conversation, always looking at her phone, you can ask, "Hey, I just want to make sure, how are you feeling?" Or, you can ask, "Oh, how are you feeling about this date? Do you like what we've been doing? Are you having fun?" That's always a very casual, cool question to ask. "Are you having fun with this?" Just to see what she says.
That is the best way to actually get her thoughts, because well, it's direct without obviously saying, "So, you don't look like you're having a good time, what's going on? What's going on with you?" That's not a good question to ask, because that has some judgment involved with it.
If you would ask the question just about how she's feeling because you care. You just want to check in with her, if you start the question with that as well, it's really great by asking, "I just wanted to check in with you, making sure you're having fun. Are you having fun today? Are you enjoying this?" That's all.
The first thing you want to do is just ask directly? No. It's not weird. It just shows you care. It's worse when you don't ask because you can feel that there's some maybe awkward tension happening or something, or maybe she can even feel it, but no one is addressing it. You'd rather just ask. That's the first thing to do.
State the Actual Observation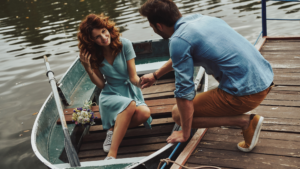 The second thing, that tends to happen is a woman can say, "Yeah, I'm fine," or "Yeah, it's cool. It's good." It's still a lukewarm answer. You're trying to understand and think "okay, this isn't the answer I thought. I'm still feeling left in the dark." What helps is if you explain why you would even ask that. You have to state the actual observation you've had on the date.
What do I mean by that? If she says, "Yeah, I'm fine," and gives you that look, where she's wondering, why are you even asking? Or, if she asks, "Why are you asking?" You could say, "Oh, I just realized you've been on your phone a lot. So, I wanted to make sure that everything is okay." Or, "I've recognized and it seems like you're looking out a lot and away or distracted, and I just want to make sure you're okay."
Realizing the end of every sentence, I say, "I just want to make sure you're okay." Because with all of that, all it's saying is that her mind may be elsewhere to something that is important to her, and you don't want to hold her from that. You want to make sure those exterior situations may hopefully aren't affecting her at that current moment.
Do not judge too quickly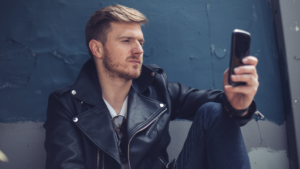 Remember, you don't want to judge too quickly. You don't want to say she doesn't care, she's not interested. It's very common for someone to come from a very exhausting morning or the night before, because of her family, because of her friends. Whichever it is, it's possible, but she obviously followed through with the date with you. She doesn't know if she wants to share that yet. By asking, "Oh, I realize this. I'm observing this. This is not something I just am saying, because I want to say it. I observed that you're distracted, or you're not, as engaged in this conversation," or, "It seems you're really busy on your phone, and I'm not saying that's a bad thing.
I just want to make sure everything's okay on your end." Usually, if you give that observation or evidence, it opens her up to explain more. This is when most of the time women will say, "Oh, yeah, I'm sorry you noticed that. There's a lot going on with my parents right now and my siblings, and I'm just trying to help them." There's a reason or explanation like that. That's what you're trying to get. Remember, at the end of the day, you're just trying to understand.
Remember the intent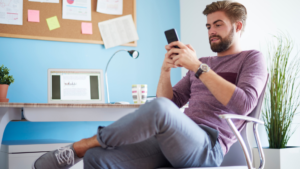 That is it. If you remember that intent, then the question and the follow-up will come organically. But if you don't know what to ask or don't have any framework, then that is the best way what I just suggested there. I hope that helps. Remember, all you have to do is ask directly. Remember come from a point of, "I just want to check-in. I just care." Then, the second part of it is actually telling her what you observed so that she knows you're seeing it. It's not something you made up out of the blue.
Remember to say, it's because you want to make sure everything is okay. You can even say, I just don't want to keep you here. This is not where you want to be. That's it. Usually, that opens it up for an honest conversation and quite honestly, it's a win-win. Either she's going, to be honest with you, and then say, she's not interested, you can let it go.
Don't waste any more time. Or, what happens I've seen many times is when she'll actually explain what's been happening in her life, and it's just a lot, and she didn't want to throw it at you. But at least now you understand and you feel so much more at ease.
Thank you so much for reading today's topic and I hope that helps.
Confidence is one one the most important factors to attract the right partner for you but it does not come easily to everyone. If you want to regain your confidence or build your confidence click the button below!Learn more about here!