I'm going to be talking about how to ask for a date. This is more for in-person situations, so when you go to an event, and you met someone really cool, and you want to go on a date with them, or a colleague that you've gotten to know over some time, and you want to see if you can go down the romantic route. I'll be going over how to ask them out without sounding desperate, being a creep, crossing any boundaries, or just scaring her away.
Subscribe to my channel to get new dating advice every week.
1. Cold approach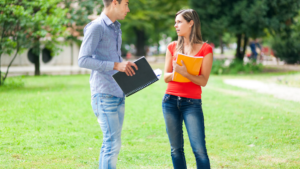 To go over this, I'm going to go over the situation itself. There are only really two situations in which you'll transition, and I'll tell you how and what to say. The first situation is when you coldly meet someone, so this could be at a coffee shop, it could be at an event, like a networking event, it could be at a mutual friend's party, whatever it is, it's any situation where you just met that person, you've probably been only talking for 5 to 10 minutes, but you already find her attractive, and you want to see if you can, well, date her.
This ebook has the ultimate plan for every good-intentioned man to find his true love, no matter the previous failures
Download your free ebook here: 5-steps to Quality Dates
Cherish this eBook: it contains more than a decade of proven wisdom from my vast experience with single men as a couples therapist, matchmaker, coach and previous eHarmony lead.
Don't Jump on a Date Immediately
How do you ask for the date in this situation? The first thing is, you don't. What I mean by that is, you don't want to jump on the date, because she doesn't know you yet. I've seen it so many times (I host my own meetup groups, by the way) and I've seen it where men will just within five minutes talk to the girl, say, "Hey, I want to take you out, you want to go out with me?" Or, "I want to take you on a date, you want to go for coffee sometime?".
I can see it in the lady's eyes where they're really taken aback because it's normally always pretty abrupt when that kind of question comes up because a woman doesn't really know you that well, to already commit and agreed to date so fast, it causes just a lot of the hesitancy and she's just unsure. A lot of the times, you'll either receive, well, a no, or you'll receive an iffy, hmm, maybe, yes, kind of an answer. Many times, the ladies will ghost because they're just so uncertain, they're not sure.
Get to Know Each Other First
Instead of asking for the date, the best way is to let her know that you want to continue to get to know her more, and if she would be willing to exchange contact for doing so. You just want to get to know her more, which also allows her to get to know you more. Then after some texting, after a week or so that's when you'll ask for a date, because hopefully during that kind of exchange, she would have learned more about you so that she's comfortable to say yes to meeting up with you
I say contact information because I will say the best contact to give if you have it is any social media, like Instagram because a woman wants to kind of see who you actually are. And Instagram gives a pretty good layout of who you are, what you enjoy, and it also proves you're a real person, that doesn't seem like you're a murderer or something like that.
Acknowledge that you've enjoyed the conversation
Once again, if you meet someone coldly, you can just directly say, and also acknowledge that you've enjoyed the conversation, it's very important to acknowledge and then say you want to get to know them more. When I say acknowledge, I mean saying, "Look, I've had a really great conversation with you. I'm going to go because I don't want to take up too much of your time. But I just feel like we really vibed, I really like your energy. I'm curious I want to continue to get to know you more, even outside of this.
Would you be open to exchanging contact?" That's that. That way, you're not just saying, "Hey, by the way, I want to get to know you more," in the middle of your conversation, which once again is abrupt. Anything abrupt will always lead to hesitancy for a lady. So, just make sure you give a reason, you acknowledge and then you ask her if you'd be willing to continue to get to know each other more.
2. Asking a colleague or a friend out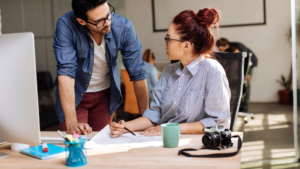 The second situation is if it's a colleague, or maybe a friend, but that's a different situation, so I don't want to talk about that when you're trying to ask a friend out. For colleagues, usually, they're still new. You've got to know them maybe over a couple of weeks, you find her interesting. You're not really friends, but you can see that there's interest there, there's enough conversation or connection there for you to want to take it further. The best way to do this is, hopefully, if you see each other in person, like at an event, work has happy hour events, even on Zoom, they have events, you can either chat with her online or you can in person and tell her that once again, similar to the first thing, I would say, for a situation, is first you want to acknowledge.
You want to acknowledge, "Hey, I've been getting to know you for the last couple of weeks. We keep bumping into each other and having lunch, it's been really fun. I'm curious if you would want to go out sometime." That's it. "I would be curious if you want to go out with me sometime." Or, making it direct,
"I want to take you out. Outside of here, outside of these lunches. I feel there's this connection here, and I want to get to know you more outside of work, would you be open for that?"
Know that people have rules with work
Usually at this point, if you feel she has any sort of hesitancy, it's usually because it's work. People have rules with work if they would date someone at work or date a colleague, so always know that you want to pad that kind of transition by saying, "Oh, don't worry. I'm not really asking you to be my girlfriend or anything like that. I just want to connect with you outside of work. And I promise you, if anything, if you feel like I'm not a cool person, I'm not going to make it awkward, I promise you."
By saying that, it really reassures her that, if it was weird when you guys go out, you're not going to be awkward about it, and you will be honest, and that you will communicate that with her. That is that, but being direct and saying, "I want to take you out. I want to get to know you more outside of work," or, "I want to take you on a date because there's so much about you that I already really enjoy, and I want to see where that goes further."
3. Acknowledge and Be Direct
Be direct, guys. That's really it. I know it's scary, but once again, it will not scare her away if you always acknowledge first, why you're even bringing this up. So, you do want to say, why you like her, or why you enjoy the interactions with her, acknowledge it. And then, be direct and say, "I want to get to know you more, I want to take you out, I want to get to know you more outside of this workplace. Would you be open to that?" And just ask that question, and then take it from there. That's it. Acknowledge and be direct. It's only weird and awkward when you don't provide any reason, or you jump the gun and you're like, "Hey, let's go out," and make it a statement too.
Confidence is one one the most important factors to attract the right partner for you but it does not come easily to everyone. If you want to regain your confidence or build your confidence click the button below!
Learn more about how to gain confidence here!