Deciding when to express your feelings to someone depends on the situation and dynamics between you two. But let me discuss one of the most common concerns among men. "Should I express my feelings, or will I come across as too strong?". This is usually for the situations where you have met someone through friends like at a friend's party or you met them at a meetup event, but more so for networking or maybe at a volunteer event, and you were able to get their contact. You then end up planning to meet and hung out. But what you realize is there wasn't an established romantic interest quite yet.
You just met through these situations, and you're starting to feel interest and feelings, but you wonder, "Should I express it? Is it too soon? Am I coming off too strong?" You just don't know what to do from there. You may fear two different things, which is getting friend zoned or you also fear losing the chance at a romantic relationship, and getting to know her comes at a complete stop. What should you do in these situations?
Subscribe to my channel to get new dating advice every week.
Should I tell her that I like her?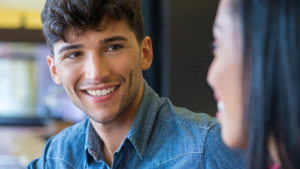 The first thing I want to clearly express is, you need to know what you want, first. First thing. If you are uncertain, that's what makes it a little tricky. If you're uncertain about what you want from her, of course, you'll just continue to hangout. It's really important first for you to be clear on what you want.
This ebook has the ultimate plan for every good-intentioned man to find his true love, no matter the previous failures
Download your free ebook here: 5-steps to Quality Dates
Cherish this eBook: it contains more than a decade of proven wisdom from my vast experience with single men as a couples therapist, matchmaker, coach and previous eHarmony lead.
Do you want a friendship, or do you already see interest there? Now, most of the time, when you're meeting someone at a party or meetup event, you start hanging out with her. For men, it's pretty quick, if you know, there's at least a bit of attraction there. Women can be a little opposite. Women need that more emotional connection at times, they might find you attractive, but they need to feel a little bit more to decide if there's interest there. But for men, you will know if you potentially want to pursue this or not. Or, if you're getting to know her with the goal and purpose of potentially asking her out on a date, you would know at least after the first hangout.
At this point, I'm already assuming that you have done the harder work of getting her to hangout with you one on one, not in a group setting. How to make that happen is, I can talk about that another time. But for now, this is for the situations, where you have a hangout. You're wondering what you should do. Number one, as I said, just be clear. Be clear first on if you actually want to pursue this or not.
Do not stay in that area of uncertainty for long. What tends to happen is, she will make it clear to you that there's no romantic interest, but then you all of a sudden realize, "Oh, shoot, I am interested, and I should have told her my feelings before." No, that should not happen. You should already know where you want this to go in the first hangout or so. Now, it is a different situation if you've been friends with someone for years and years and then you grow attraction.
But once again, completely different scenario. This is if you've met someone recently at an event and you just started getting to know them, all right? Once you are clear on how you feel, obviously, if you feel she's just a friend, that's pretty easy. You just continue to hang out with her and if she ever brings up clarity in what you want from her, you can say, "Sorry, no, I didn't do this to romantically pursue you. I just want to be friends." Done.
How many dates before you caught feelings?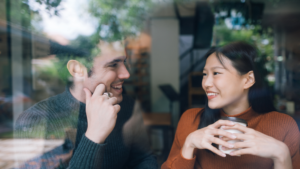 Some of you may start to feel a connection after just a few dates, while others may take longer. Now, feelings can start to grow at different stages, sometimes, you just realize, "I think she is cute, she's attractive and I want that potential of being in that romantic space with her," my suggestion is to express your feelings. Now, I don't mean it in a way where you have to have a huge confession.
But as I've said in my other videos with flirting and throwing compliments, you want her to be aware that you are interested. And that's by making statements like, "That's a very attractive trait of yours," or "You're really rare. I don't meet too many girls like you. I've enjoyed getting to know you and hanging out with you. I want to see where it further goes because I don't meet too many women like you." Making her feel special.
And more importantly, making clear that it's a date, so there aren't any more hangouts. You will literally say directly "After this first hangout with you, I want to get to know more about you and take you on a date. Would you be open to that?" That's it. That's it. Just being direct. Here's the thing. I realized that there's a lot of fear with coming off too strong, but really think about it. What is coming off too strong? When you come off too strong, that means that you're making her feel pressured or backed into a corner.
You only do that if you're not asking for her thoughts and you're confessing in a way that makes her feel like you should feel the same as me. That's when you're coming off too strong, you don't even ask her. You're just all of a sudden, showering her with the most expensive gifts or treating her to a very expensive restaurant when it's just a hangout, you don't ask for the date, but all of a sudden, you're taking her on this yacht trip. It's not being clear about your feelings.
There are two extremes here. Not being clear on your feelings, but also coming off too strong as you're confessing. This makes it confusing, making it why she wouldn't align with you. At the end of the day, wouldn't you appreciate someone who's straightforward and direct? A woman appreciates that too. If anything, she knows that you're confident.
What is the best way to express your feelings to a girl?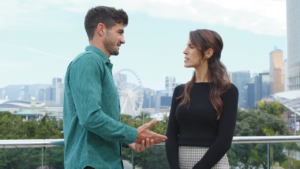 When people are able to express how they feel, when they're self-aware and they're not afraid to say so, women appreciate it. That way, we're not confused. There's clarity there, and you're giving her the space to answer, and how she feels. At the end of the day, if you express your feelings, you get an answer, and that is the most important part of all of this.
You want to get an answer. You don't want to tiptoe around and maybe hope she'll come around. No, because you'll just be more disappointed the day she comes back and says, "Hey, I don't think it's going to work out," or "I don't know why we're hanging out," or "there's no romantic interest there." No, you just rather right off the bat, get your answer. If you feel feelings, say it. Do not wait dates and dates and hoping she comes around. Let's not do that.
So, I hope that answers it for you guys. The short answer is yes. Express your feelings, be direct, ask for her thoughts, and then take it from there. But before all of that, make sure you know what you want. The more you dance around it, you're uncertain, it makes sense that she wouldn't be uncertain to me.
Face awkward situations and express your feelings with confidence. Allow me to guide you and assist you in trusting yourself in these moments. Find out here!