Make a lasting first impression on your date by engaging in great conversation. Avoid the pitfalls of poor communication that can ruin your chances of a successful first date. So, what are the best conversation topics for a first date? It's easy for conversations to start dying on a first date, asking "So what do you like to do?" can only go so far. Knowing what to talk about on your first date can also save you from awkwardness.
Here, I've come up with the 3 most important focuses on first-date conversation ideas and the 3 best first date conversation topics with a girl, that will keep her interested so you don't have to deal with awkward silences or uncomfortable pauses any longer and continue dating her.
Subscribe to my channel to get new dating advice every week.
First date goal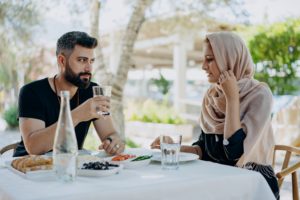 The first date is a bit nervous and uncomfortable and it's no surprise that the conversation on the first date is what keeps it going with interest, intrigue, and fun. The conversation is about how two people truly connect. Without that conversation spark, why would anyone want a second date?
This ebook has the ultimate plan for every good-intentioned man to find his true love, no matter the previous failures
Download your free ebook here: 5-steps to Quality Dates
Cherish this eBook: it contains more than a decade of proven wisdom from my vast experience with single men as a couples therapist, matchmaker, coach and previous eHarmony lead.
Remember the first date goal is to connect. That's it. It's not to get the second date, not to get her to like you, or get a kiss. Sure, those are all nice to have, but when you focus your attention on that, you lose focus on what really matters. If you focus on the wrong goals, she will not get to know you genuinely, which leads her to wonder "why would I go on another date with him?"
Connection
Connection is about finding out where you two align, on your lifestyles, values, and beliefs. It's about truly learning about who the other person is.
You find out how you connect by finding out about each other's journeys. Ask her questions that will allow you to get to know her journey in how she became who she is today. It's also important to allow her to get to know your journey as well. It's not about the interest, or facts about them. When you find out the progression, the events, the steps it took to get a person where they are today, you either find yourselves truly aligning ….or not. And if not, it's okay! That's how you know you two don't connect.
With connection, and also curiosity, you keep the conversation going.
What to talk about on a first date with a woman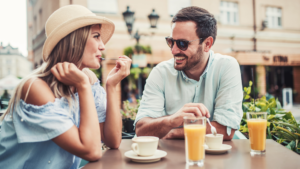 First date conversation examples
These are the best topic for first date to ask about that will allow you to get to know her journey.
Career
This is no surprise, everyone talks about careers on the first date. However, normally, people limit this topic at "What do you do? What does that entail?" or "What school did you go to?"
You want to ask the more important questions…..the why. This is how you find out about her values. You want to ask questions like:
Do you enjoy your job?

How did you decide on that career?

Would you want to work in this job forever? What's your dream job?
For example, there's a difference between someone who values stability over passion. There will be relationship discrepancies when someone talks about how much they love their job and want to work more, while the other person hates their job and never wants to work a minute over what is asked for.
It's not about what they do. It's about the how, the why, and the "where are you going with this?"
Experiences
Let's not mix this up with interests. People get stuck in talking about the actual interest like how you both like hiking, traveling, and eating good food. However, that doesn't lead to continuous attraction and intrigue. It's not about the interest, it's about the experience(s) you have doing it.
For example, it's not just about traveling and what destination you went to (or even the discoveries you made during it). It's about the highlighted experience in that destination, what really stood out, which experiences mean a lot to you….and why.
This is how you find out what really drives her and what she enjoys in her everyday life. Because of the way she values experiences, she lives by every day in smaller moments.
Social Circle (friends and family)
This is an easy first-date conversation, but sometimes people forget to talk about this! Who we decide to surround ourselves with says a lot about us. You choose your friends. On contrary, you may not choose your family, but you do choose how to handle the relationship with the family (you could be really close or decided to not speak to them).
Once again, this is a topic people don't ask more questions on. It stops with "so how many siblings do you have?" or "Where does your family live? Do you visit them a lot?" Instead of those, you want to ask
What do you value in those relationships?

How do you spend time with them?

Why do you consider those friends close?
Asking those questions allows you to get a deeper look into how she reflects on her relationships, how she manages/maintains them, and what she values in people she chose to be close to her.
This gives you big insight into how she may look at your own future relationship with her. And of course, with this, I hope you're ready to talk about this topic as well!
Walk away knowing this…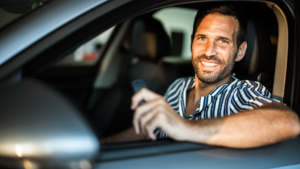 Hopefully, by putting your focus on the above, you can walk away from a first date feeling confident about connecting. You don't have any uncertainty or confusion with how you felt about the date. You hope to walk away saying:
"I really connected with her — we're both family-oriented, adventurous where we love the adrenaline rush, and we value self-growth and ambition."
That will leave both of you with excitement, compared to "We have a lot of things in common — we both like hiking, traveling, and food." If you get stuck on what to talk about, remember these topics, and expand on them as you're comfortable. And, remember, it's important to express your attractive traits as well.
First dates can be exciting— but it is a bit intimidating, especially if you don't know what topics you would want to talk about. We have the full conversation formula that will show you how to keep a conversation filled with excitement, tension, and lasts continuously. No more awkward silences, boring small talk, or dead ends.
Find out more here