For some, approaching ladies is all about timing and strategy, but let me discuss if "is approaching women sleazy, odd, or creepy?" further, and any of those negative views. What's interesting is, I get this question normally after clients are curious about how to start a conversation with the girl in public. And then after they learn about how, then they wonder, "Is it good to approach a girl? Is this weird? Is it bad? Do women even like this, would they want this to happen to them?"
Subscribe to my channel to get new dating advice every week.
So, that's what I'm answering for you today. Before we get into that, if you don't know how to start a conversation with a girl in public or in person, I did already make a post on that. So, make sure you click this link to learn what exactly to say when you approach a woman in-person
Because here's the thing and I've said this many times before, Women don't mind being approached. Women don't mind people having conversations with them. But they do mind when it's by a creepy person. That's when we mind. Because anyone can start a conversation with us. It could be a girl, it could be a guy, it doesn't matter. I will say though, as long as the woman is friendly, maybe she's having a good day, she's just a kind person, then of course, she wouldn't mind being approached. I can't say for all women, because there's always going to be those ladies who are just not nice and would never want to talk to anybody.
This ebook has the ultimate plan for every good-intentioned man to find his true love, no matter the previous failures
Download your free ebook here: 5-steps to Quality Dates
Cherish this eBook: it contains more than a decade of proven wisdom from my vast experience with single men as a couples therapist, matchmaker, coach and previous eHarmony lead.
Do girls like being approached directly?
Know the difference
Let's talk about the difference because when I say people don't want to get approached by creepy people, my clients still get confused and wonder, "Is the approach I'm doing still creepy?", what's the difference?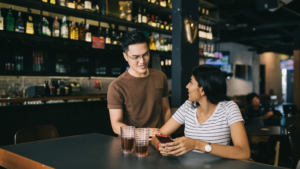 Well, here's the thing — If you listen to my strategies and my videos about how to start a conversation with a girl in public, what is the purpose? What is the intent there? I've always told my clients, "The intent is just to get to know her because you don't know her." Obviously, there's a little spark of interest there, because you saw her and you thought she's cute, she seems cool, and you want to start this conversation.
How should men approach women?
Connect with her
All you're doing is just trying to start a conversation and getting to know this person for that short amount of time. And then if you're interested, then you'll be honest and say, you want to get to know her more, and then it goes from there. So, that intent is honest and that's okay. Let's look at it another way, not in a romantic way.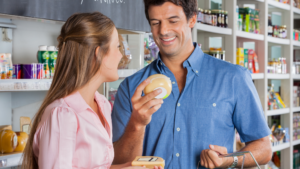 But let's say there's somebody who wants to make new friends, because they're in a new city. It doesn't matter if it's guy or girl, they see something that is interesting, whether that be the jacket they're wearing, whether it be a girl can compliment a girl's hair or maybe it's something that they're carrying in their shopping cart, and they're just curious about it.
What is a cold approach?
They start a conversation from there and start connecting with this person, with the goal of just wanting friends. Then, they'll ask for their contact after, because they do want to build a network here in this new city. Is that creepy? No, it's not. You're just trying to start a conversation with somebody. Look at the other end, too.
If you start a conversation with a girl and she looks at you, yes, as girls, right off the bat from your image, we're already deciding, do you seem like a friendly person? And hey, a girl can think, "Hmm, he's pretty cute," and will entertain the conversation and get to know you as well. And then, you build a new conversation.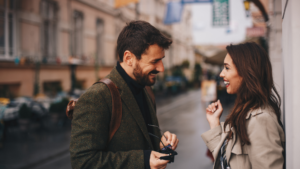 Where is it ok to approach girls?
No woman in this modern age has ever said that they don't want to meet a man at a coffee shop. With online dating booming nowadays, people want that cute story (the "meet cute"). And so, any single woman would be open to potentially meeting somebody that they could connect with. That's the truth. If they're single that is, if they're taken, that's another story. They can just say they're taken if you're interested in them, but it's not creepy, because you are being honest. You just want to start a conversation and get to know somebody.
How do you approach a girl without being creepy?
Avoid pick-up lines
Now, here is what's sleazy. When you're trying to manipulate the situation. When you walk into a grocery store or a bar, gaming this — it's a game to you, it's a numbers game, you're going to try to approach these ladies using the same pickup line. These pickup lines came from some pickup artists, or they came from a male gaming society. Who knows? But it's copying these lines. You're not actually, truly curious about this girl. You are just using these lines that you have learned from someone else and hope that somebody responds well to it.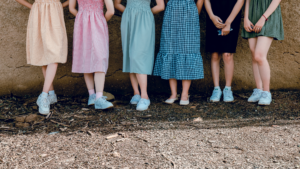 When you're in it, you're not actually trying to get to know her. You're on top of this game. You memorize these lines and whatever she says. Maybe she says no, but you have another version and response to answer that because you don't want her to say no. Here's the sleazy part. The purpose is not to get to know her, to sleep with her, or to increase the number of how many women you have slept with. You don't actually care about this girl. You just see her as another girl.
Here's the worse part…Usually, men in that kind of gaming society don't really think much of us. They don't think much of women. I've seen it, I've read it. They belittle us women. They don't think we really have a mind for ourselves and they think we don't know what we want, that we don't have our own personality. And so, it's just bad. It's just bad. They're not viewing us as people, as humans, and they're not actually trying to get to know us.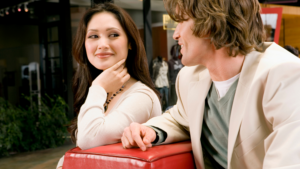 They're just using lines, and flirting with us. They are complimenting our looks, they compliment other girls for a purpose, that is solely selfish to them. It's not about connecting as humans one on one and truly trying to get to know one another person. And if you're interested, you're interested and if she is, that's great. Usually, it's sleazy when you know, it's all about manipulation and games. That's what's creepy. That's the difference.
What do you say when approaching a girl?
Be honest and transparent
You guys who are usually following my content don't fit into that sleazy category. Because you actually respect us, women. That's probably why most of my clients are working with me. So, I hope they respect women. But you're honest and transparent, you just want to connect with these girls or the woman you saw at a grocery store, you're genuinely curious about her and you want to see where it goes, that's not sleazy.
Obviously, there's nothing wrong with the way people approach life. I have my own thoughts and opinions. I'm not going to put down anybody else who's trying to have their own business in helping people approach women in their own way. That's just not the way I do it. I honestly think the latter is sleazy, creepy, and just not very kind to us women. That's the difference.
I hope that explains it for you and I hope that brings confidence in knowing that if you just want to start a conversation with a girl because you're curious. Start it! It's not creepy.
Some men approach women for numbers, but most of you want to connect with them–want to know how?Click here