Wondering about how to start a conversation with a girl in person? I know how challenging it is, so let's learn the 3-steps to starting a conversation with a girl in person. Now, I'm not only talking about bars clubs or lounges. This could be at a park, at a bookstore at a mall, or anywhere where you're already going to. It doesn't have to be so hard to meet ladies in person. You don't have to really take time out of your day and go somewhere you wouldn't normally.
Women are everywhere! Single women are everywhere. Now, it's just about learning how to start a conversation with a girl in-person or offline, the beginning sets you up for everything.
Subscribe to my channel to get new dating advice every week.
Know your area and it's possibilities
You know the area you're living in best so I do suggest to go to an area where you know people around your age are hanging out at. I do want to, also, note that even during a 2020 pandemic, people are still meeting each other in-person. It's true! I've seen my own clients start conversations with women at hiking trails, beaches, parks — anywhere! People are still, obviously, outside. We all need some fresh air at some point!
Here's an example below of my client who took his normal stroll around a park (this is during the pandemic, by the way). This time, he decided to approach a woman, with a dog, that caught his interest. He had a simple conversation open-liner, started a chat, and check it out::
This ebook has the ultimate plan for every good-intentioned man to find his true love, no matter the previous failures
Download your free ebook here: 5-steps to Quality Dates
Cherish this eBook: it contains more than a decade of proven wisdom from my vast experience with single men as a couples therapist, matchmaker, coach and previous eHarmony lead.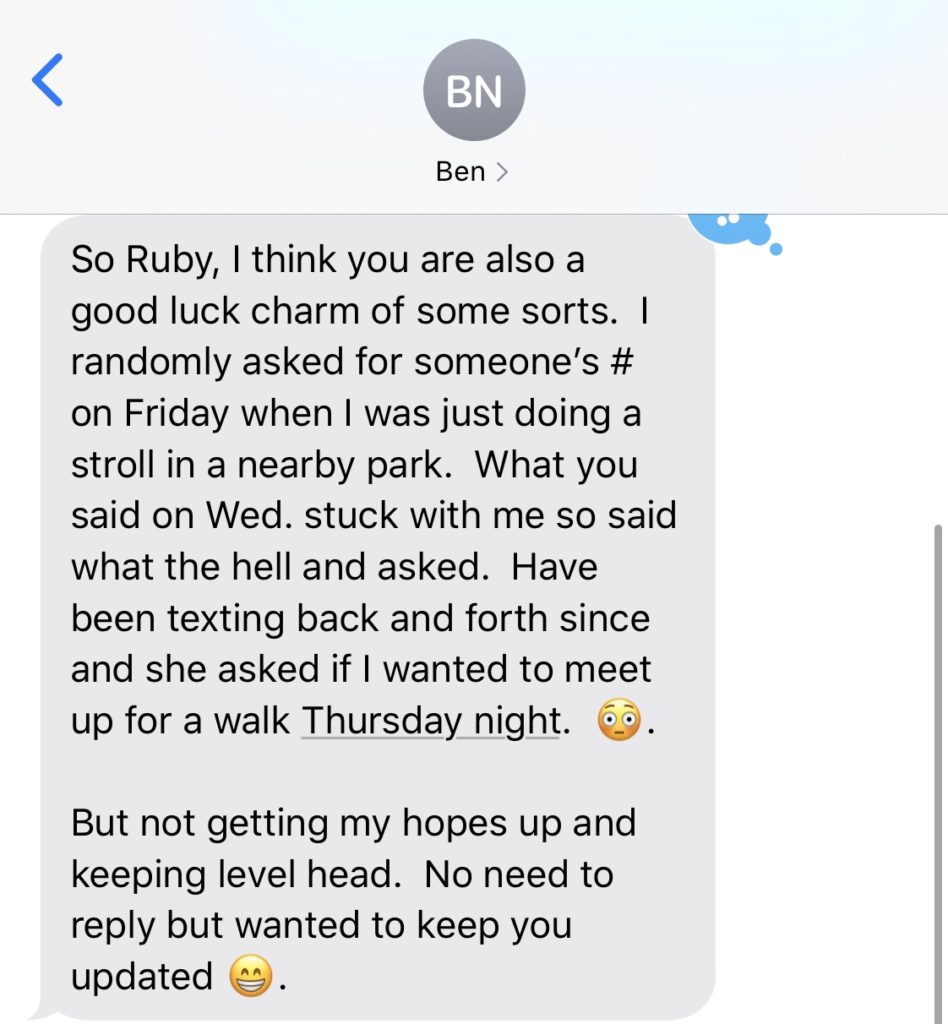 Obviously, they're practicing social distancing and were wearing a mask, but this shows people still crave connection.
Ben, also, talked about this exact moment in this video of him sharing his success story:
Watch: How Ben regained confidence after a divorce and found a healthy happy relationship
Realize women are everywhere right as you step outside the door, in every location you're already going to. It's all about making the move. So how do you actually do that? Without being a creep or freaking her out?
How to start a conversation with a woman in-person
It's important to keep these 3 pieces of advice while you're trying to start a conversation with a girl. The purpose of all of this is to help the ease in on a new conversation with a stranger.
1. Ask a question or make a comment about the environment.
When it comes to how to start a conversation with a girl in person, the first focus is the environment. The environment is the only thing that you share in common. Utilizing the environment will give her a reason on why you're talking to her out of nowhere. If anyone has ever suggested to go up to a girl and say "Hi! I'm Bob 🙂 What's your name?" — It's not the greatest suggestion… because at that moment, remember, you're a complete stranger. This is a cold approach. She will wonder
….what do you want?….are you going to try to sell me something? Oh no, you're hitting on me…
They're hesitant, resistant, and wonder in concern. Remember, again, women just don't want to be approached by creepy men. So you want the approach to be more warm and easy to go into. Utilize for the common environment for your conversation topic. Let's say you're at a coffee shop, a great starting question is:
Hi! I don't come here too often, any recommendations for a drink?
If you're at a mall? Then, you can make a comment
Wow, it's a crazy time right now, it's so busy, huh?
If you're at a park and see a woman with a dog, then you can ask:
I'm curious, what kind of breed is your dog? Seems hyper and cute!
Women won't hesitate because you're asking a question that is right in front of you, from your observation, and that's okay.
Of course, if you're at a networking or meetup.com event, that's where the simple introduction of "Hi, I'm Bob!" works (what's with me in using the name Bob? I haven't met anyone with that name in a long time…..haha)
In this blog, we're talking more about cold approaches.
Bonus tip/advice: It's best to ask about her thoughts or recommendation on something. If you're at a bookstore, asking "What would you suggest?" if she's holding a book, or "What do you think about that author? I see that you're holding"
2. Say something about yourself
The second thing I want to talk about in regard to how to start a conversation with a woman in person is to make sure you talk about yourself. That is a key conversation tip, for any part of a conversation. I cannot tell you how many times I've personally experienced this, where a man constantly asks a lot of questions….and I start feeling interrogated and worried. Remember, women have no idea who you are. So it's helpful to give what you're asking context.
For example, here's a real story — I was approached when I was at a grocery store while looking at avocados. His approach was "It looks like you know what you're doing, how do I know if an avocado is ripe?"
How does he say something about himself? He, then, says
oh, I'm trying to make guacamole for the Super Bowl party and I'm not very great at this stuff.
Immediately, I understand why he was asking with that simple information shared. I already feel safe and comfortable. Talking about yourself at the beginning of the conversation will allow her to understand a little bit more about why you are there and why you're approaching her, plus she gets to learn more about you.
3. Response and Validate
With every answer she gives, make sure that you respond as well and validate what she's saying. It helps her feel heard and that way, you're just once again not rolling off a bunch of questions just to find out more about her. A validation is saying something like:
oh, that's really cool that you like that book and you know so much about that.
This will help with keeping the conversation going, even if you're shy.
And, that's it! That's all you need to know about how to start a conversation with a girl in person.
Just remember to do your best to provide that kind of safety to the woman just by starting the conversation with ease and then as a conversation keeps going, that's when you can be curious, ask more questions, and build that connection.
Do your best, don't take it personally if she avoids
If you do all of the above and you really feel like you're doing your best (you're being respectful and everything), know that if a woman still rolls her eyes at you or walks away and doesn't respond, it's not about you.
There are so many factors into why she did that, but the main point I hope you get out of that is that she's probably not for you if she's already giving you such a cold response. It could mean a lot of things that are going on for her or her own past experiences — once again, it's not about you.
In order to improve your dating journey you must learn various conversation techniques, however, Mindset comes first. One of the main reasons why men can't hold a conversation is because of their internal dialogue. If you struggle with this, please click below
Better your mindset here