Am I being desperate? a most common worry so much with not just my clients, but I see it a lot in comments and posts in regard to social settings. So, let's talk about if you seem desperate. You might also be wondering, "What are the signs of me being desperate? I don't want to be that desperate guy." It's a popular word in dating. So, I really wanted to hop on to talk about that and comment on that today.
Subscribed to my channel to get new dating advice weekly.
What Makes You Come Off As Desperate?
There are already a lot of YouTube videos and articles listing out how you may seem desperate. They list out about 10 to 20 different ways and behaviors that make you seem desperate. I'm not going to do that, because there is really one main root. Well, I guess, you'd say two points I want to make.
But there is one main root here that I feel would really solve the main issue of this, and that is asking yourself, are you desperate? Are you desperate to have a girlfriend right now? Are you desperate to get married and have kids right now? Are you desperate to be validated now? Are you clinging on to this desire and this goal, because you're really desperate in it? If that's a yes, more than likely, you are showing signs of being desperate.
This ebook has the ultimate plan for every good-intentioned man to find his true love, no matter the previous failures
Download your free ebook here: 5-steps to Quality Dates
Cherish this eBook: it contains more than a decade of proven wisdom from my vast experience with single men as a couples therapist, matchmaker, coach and previous eHarmony lead.
How Do I Know If I Am Desperate?
Here's the thing, I see that there is a worry at times that stems from questioning what to do, "Oh, if I ask her out a second time, if I check in with her about the date, because we scheduled the date and I didn't remind her about it, but if I remind her, do I seem desperate? If she all of a sudden didn't respond to me after we had two great dates and I'm really confused about what happened, do I seem desperate? If I ask her, 'Hey, what's going on?' I'm really confused and surprised. Do I seem desperate in all those things?"
There is a difference between you taking an action because you're desperate and you need her, you need this in your life, versus you taking action because you want an answer or clarity. You don't want to be that type of person where it's okay for someone to just ghost you after so many great dates, it's okay for them to have these behaviors and ghost you acting as if maybe it just won't hurt you or they don't care. It's not okay behavior for girls or guys to do that.
How Do You Reach Out Without Sounding Desperate?
Be honest and bold
It's okay to say what you want–to say that something's confusing–to say those things and get your answer. Honestly, when people do that shows boldness. That shows confidence, that shows courage. You're not trying to get her to like you. If that was your intent, that's something else to talk about. But when you're feeling confused, when you're feeling, "I want to go on this date with this girl, I do.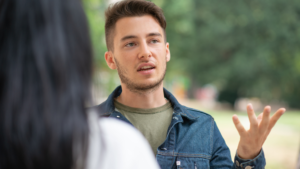 I want to ask her on a date, but I don't want to seem desperate." If you want to ask her on a date–ask her on a date. It doesn't matter how it may "seem." I've said this in many of my other videos, but I'm going to say it here, just in case you haven't seen the other ones.
No one is perfect. There's always going to be someone that's going to misunderstand you and misinterpret what you're doing and what you're saying, that just happens. What matters is that you know what you're doing, you know your intent, and you know what you're asking for and what you're saying. If someone's going to misunderstand you, that's just going to happen. So, it's important to know, if you want to ask for that date, you ask for that date.
Can Girls Tell When A Guy Is Desperate
And if she leaves you hanging and you're confused by it and you don't appreciate that, it's okay for you to say, "Hey, I'm really confused. I thought we had a really great first date and now you're not responding. I'd appreciate it if I could get an understanding here of what happened" That's okay. It's not a bad look, per se. If one or two ladies think that you seem desperate, it happens. There are still going to be people who will think certain things of you.
But if you know that's not true, if you know you're saying what you did because you just wanted answers, or you're curious, or you just wanted to say how you feel, or you really just genuinely wanted that second date and she said no. Okay then. You're not doing it out of desperation. However, if you feel like you are desperate, that's what you want to work on. That's an internal obstacle there that if you keep feeling that way, it is not good for dating success.
How Do I Appear Less Desperate?
Get guidance and Support

It's important to not constantly have feelings of desperation and putting so much pressure on yourself. It doesn't lead to success. I would highly suggest getting more guidance and support in that internal working. Normally through mindset coaches, life coaches, and therapists, because that's very internal. Once you seek tht support, it's possible for you to be bold, be confident and tell someone that how she acted was confusing or that you do want that date, whichever it is.
There are so many actions I feel that guys worry about and seem desperate but at the end of the day,
it's about really reflecting on your own behavior, what your intent is, and feeling confident in that it. Empower yourself. And if you're not desperate, you're not desperate. That's what matters.
I hope that helps. You can still look at the list of things that may seem desperate. But as I said, I think this is really the core of it. If you still feel you have a dating mindset for you is not there, then get guidance.
In the dating world, there are ups and downs. Avoid prolonged hopelessness; self-improvement leads to your ideal partner, starting with your mindset. Elevate your mindset here