Let's talk about what you can do when she ghosts you or stops responding out of nowhere. I talked about what to do immediately in regards to how you take it ad your mindset here. But, What can you do? Can you text her? What kind of text should you send? Is there even a text you can send that's not going to freak her out? At this point, you want an answer because her suddenly disappearing is confusing. But hey, if there's potential for a spark again, you want that option. Here is what you can do after she ghosts you (or stops responding)
Send a check-in message to confirm if she's ghosting
First, you want to understand why women would ghost in the first place. Remembering how it can happen alleviates any immediate negative conclusions.
If you've been texting back and forth with a woman and it's been pretty good so far, with positive responses and good response time, but then all of a sudden she stopped out of nowhere…What can you do? If you asked a question in the last text, what you can do is a day or two later….send a check in message.
Remember that a check-in message is a very simple, casual, and easy to answer text message. This is a true test if she has decided to ghost you or not because it should be very easy to answer a simple question. If she can't even answer a simple question, it becomes more obvious that she's ghosting you.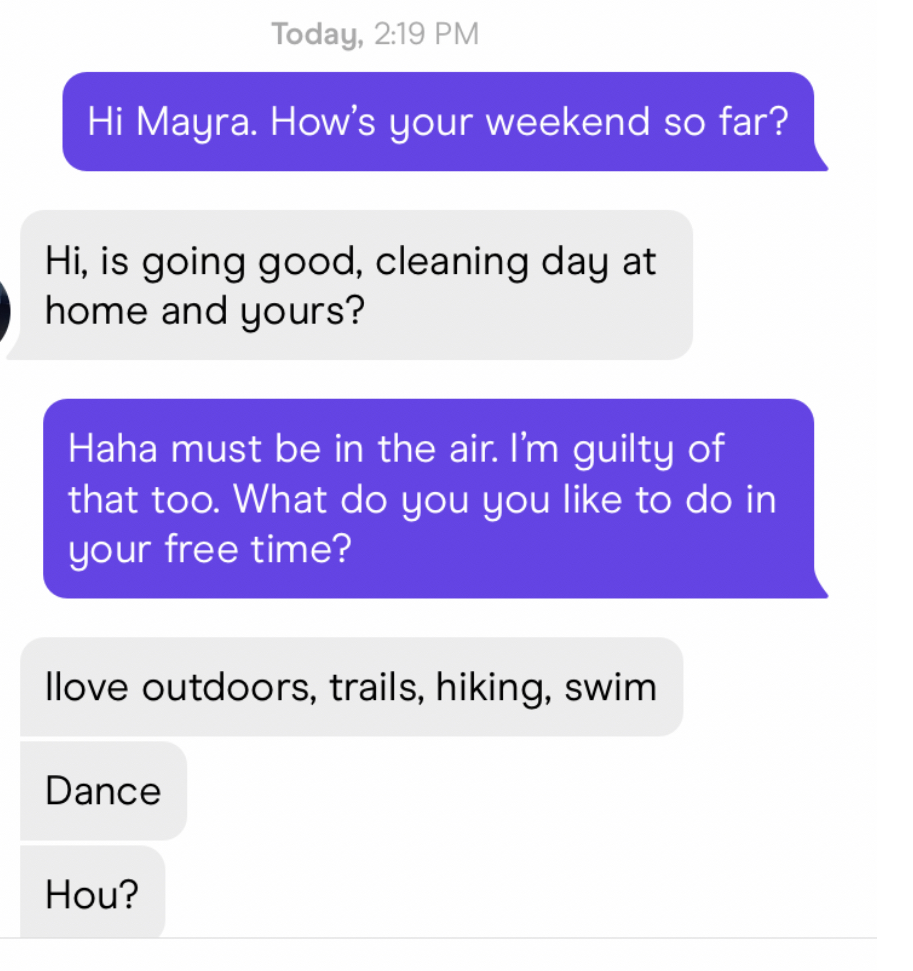 This ebook has the ultimate plan for every good-intentioned man to find his true love, no matter the previous failures
Download your free ebook here: 5-steps to Quality Dates
Cherish this eBook: it contains more than a decade of proven wisdom from my vast experience with single men as a couples therapist, matchmaker, coach and previous eHarmony lead.
Let the last question go
Make sure in your text, you do not go back to the last question. You don't want to say something like "hey, you didn't answer my last question…" Don't do that. The moment is gone and you pushing it so harshly can push her away even when she didn't mean to. We don't know why she didn't respond to it, but we always want to be careful of jumping to conclusions and judgements. It's a possibility she got busy. Or, she looked at it, knew that she wanted to respond to it, but it took too long for her to figure it out. So, she forget. Whatever the reason may be, Just let it go. You can bring that question up maybe later down the road again if she answers.
Back to the main point, it's important to send a check-in text if she did not respond to the first question. You can sometimes get her response and the reason why she didn't respond to the first question. See example below.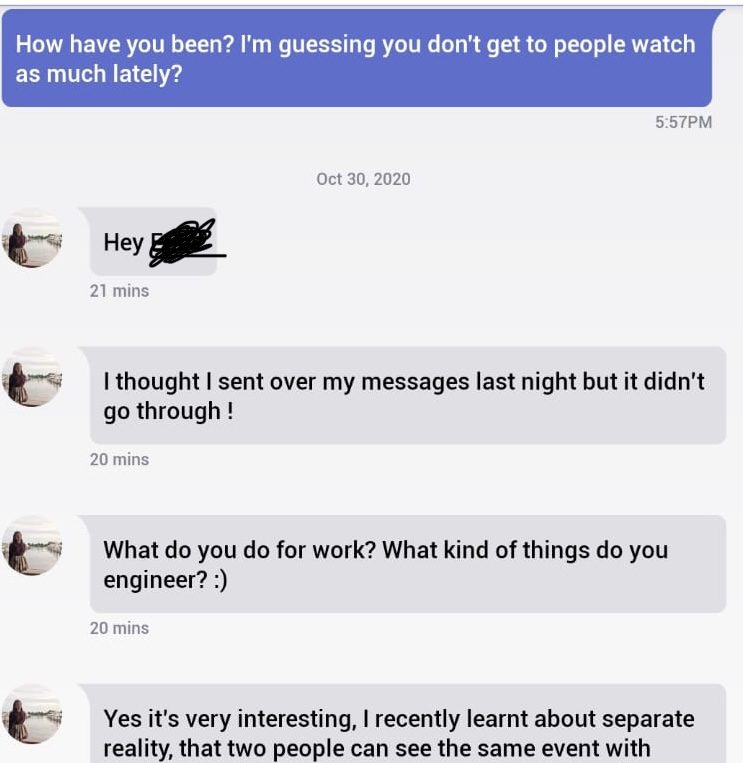 If you send a check in and she still doesn't respond. Yes, she's officially ghosted you. She's decided that she's not interested. There's very little instances where a woman comes back weeks later after you've sent that text message asking a question or tells you "oh, I'm so sorry. I was gone for two weeks." It's very rare. Now, let's figure out what you can do after she ghosts you
Send this text after she ghosts you
if she doesn't respond to your text after a week…at this point, you're confused and want an answer. After good back n forth, you're now wondering "What happened? What did I do wrong? I thought the conversation was going well…is there anything I did wrong?" You can get your answer. And that's what you're going to do now. what you can do after she ghosts you is send an understanding feedback text. Note: remember, this is after a little more than a week.
This text must come from a place of understanding. You do not want to sound angry or irritated because she's not going to answer. It's easy to think the text sounds okay but if you know you are bitter or still freshly irritated, I'd suggest to cool off before going back to the text. So how do you make sure the layout of the text is well received? You text a message similar to this below:

That's it! Keep it simple. Keep it direct straightforward. But, there are some parts that make this message received and has more of a chance of her responding. You can't come out saying "so, can you tell me what I did wrong? Any feedback?" She'd be taken aback by it.
Here are key points in the message:
Acknowledgment – You want to acknowledge that you can see she's not interested due to her non-responsiveness.
Acceptance and understanding – You want to make a quite note that you're okay and accept her decision to not move forward. This doesn't have to be a long, a simple "no worries" or a "I completely understand"
Ask for feedback – Most women (and kind people in general) want to help and don't mind sharing their thoughts as long as it helps you.
(Optional) State your intent for the feedback – A simple "so it'll help me in my journey to finding love" helps her understand why you're asking. It's not to continue to pursue her, it's so you can continue in this journey. It's a great trait when women see you want to grow.
Most women are very receptive to this and they appreciate that you want feedback, you want to better yourself. Women don't just give feedback without you asking because many men don't take it very well.
If you're texting a woman you haven't met before, it's most likely she didn't feel a spark or chemistry. If you two have met and dated for a bit, it's more likely she'll give you specific answers and feedback.
A continuation from the example above, she actually did respond: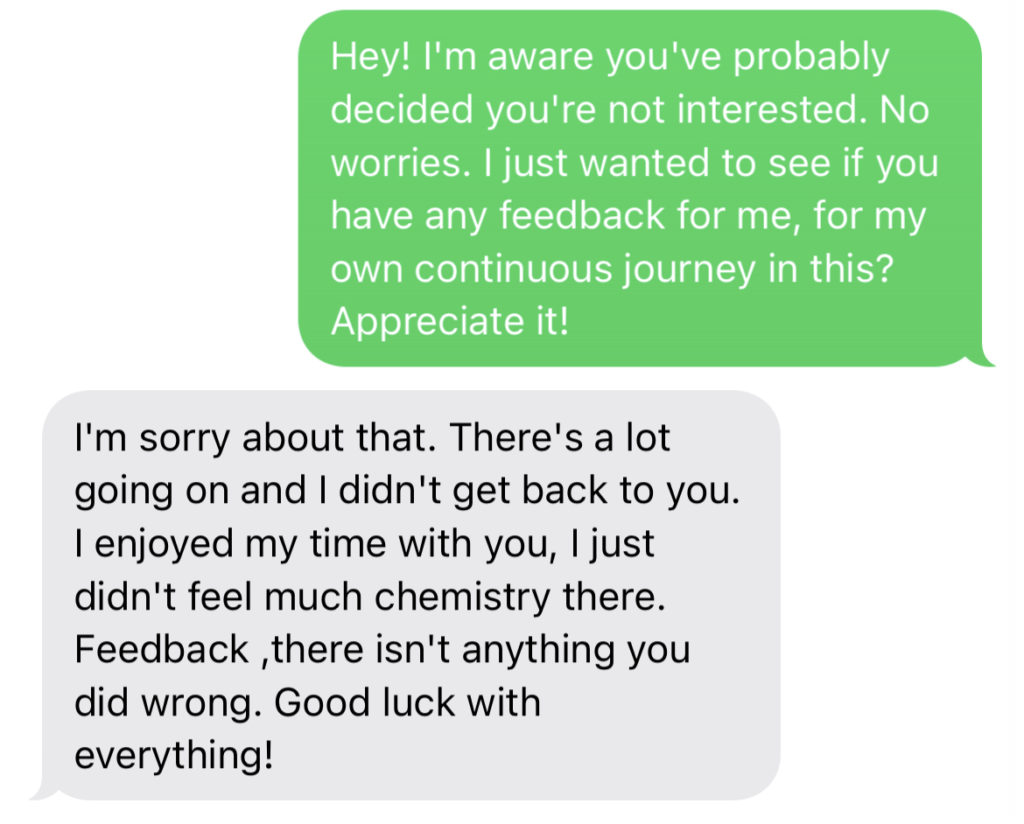 And there's that! That's what you can do after she ghosts you or stops responding. Remember to have good management of your mindset through all of this. It's easy to jump to conclusions when she first doesn't respond when she takes forever to respond, but there are so many reasons from her side you may not be aware of. The whole intent and point of what you can do after she ghosts you is getting your answer. Figuring out what you did wrong so you can make sure you don't do it again. Send a text to get your answer and don't be afraid to do so! There's a way to do it without being a creep, pushy, or overbearing 🙂
"Ghosting" is The act of cutting off contact without giving any warning for doing so. However, you can a girl stop from ghosting by keeping her excited when you send her a message!
Click here to learn how